Budenholzer hails Bucks' resilience: "These guys hate losing"
Mike Budenholzer was full of praise for selflessness, trust, discipline and focus the Bucks have shown and hopes his players continue the trend in Game 6.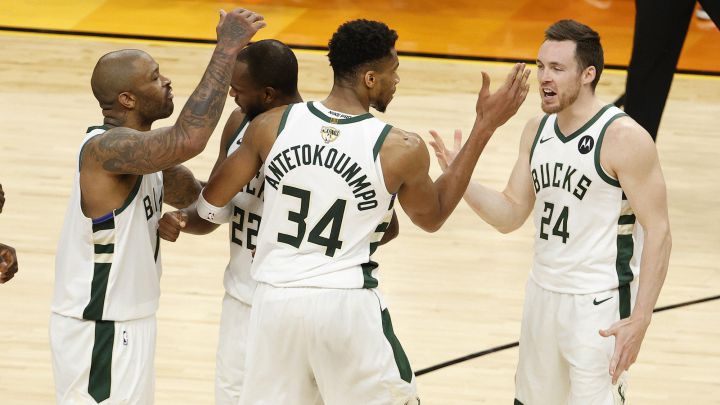 Milwaukee Bucks head coach Mike Budenholzer heaped praise on his players in Monday's press briefing as his side prepare to go into Game 6 knowing that a win will be enough to clinch the title. Budenholzer says he couldn't be happier with the confidence, unselfishness. discipline and focus that every single one of his players have shown throughout the series but warned that nothing has been decided and they still have a job to do.
The players understand and trust each other
"The maturity of the group, their intelligence - I think it comes through. They understand that we have to keep our focus, we have to be prepared and do the things that go into winning - the competitiveness, those moments and opportunities to compete. That's all that matters whether you're down, or you're up… you draw on your competitive spirit. That's how this team is built and they have to continue to do that," Budenholzer told reporters.
He explained that the bond within the team has developed over time. "Everybody talks about what the regular season is like and going through training camp and all of that. You just get a feel for your team, they've been through everything and we always talk about their resilience, their character - both teams have a tonne of that if you have made it to this point. They've shown it from Day One and we need a lot of that going forward".
"It's truly been our whole team. We needed everybody in different series at different times. Everybody has contributed to us being in this position." pic.twitter.com/O6pWst2K1P

— Milwaukee Bucks (@Bucks) July 19, 2021
Giannis spirit and encouragement
Even when Giannis Antetokounmpo has been unavailable, he hasn't stopped egging his team mates on by constantly encouraging them from the sidelines. Budenholzer acknowledged that positivity has rubbed off on everyone throughout the series. "The vocal leadership that you've been seeing has been growing," he said. "I can only speak for the last three years but I think: a) him understanding how powerful and impactful he is; sometimes it's being vocal, maybe it's helping to teach or learn or grow in a moment - sometimes it might be getting on somebody. All of those things are hard when it's your team mate. I think his understanding of what we want to do has grown, so when you understand things better then you can communicate better. He's got a high level of understanding of what we want to do both defensively and offensively, he's got great passion, great commitment and great relationships with the players. Sometimes he's just touching guys - that can be a form of communication. All that, we see and and feel and it's grown. With each step we have taken it's got even better but other guys in the timeouts are great too - whether it's Khris in his way, PJ Tucker, Drew, Brook, Pat… they understand what we want to do and they help each other".
Slow to start
One area where the Bucks have struggled during the series has been getting into their stride. The team were down 21-27 in the first quarter in Game 5 and forced to react, as the coach knows only too well. "A couple of things stood out to me from the other night. We didn't take care of the ball, the turnover service in the first quarter - I think that's maybe one of the biggest things. Our offense, we've got to execute a little better, we've got to screen better, cut harder, be prepared for whatever the defence is doing - mentally and literally. If you look at the whole play-offs, I think we've done both. We've come out and crushed some first quarters, and we've come out and been in a big hole in first quarters... the players did the same routine, when we crushed it and when we were down. It's a long game, even if you're up. We've seen a little bit of everything".