Monty Williams confident the Suns have the ability to bounce back
With Phoenix Suns trailing in the series, Monty Williams says now's the time for his players to rise to the occasion: "This is 'it' - we're going to see more".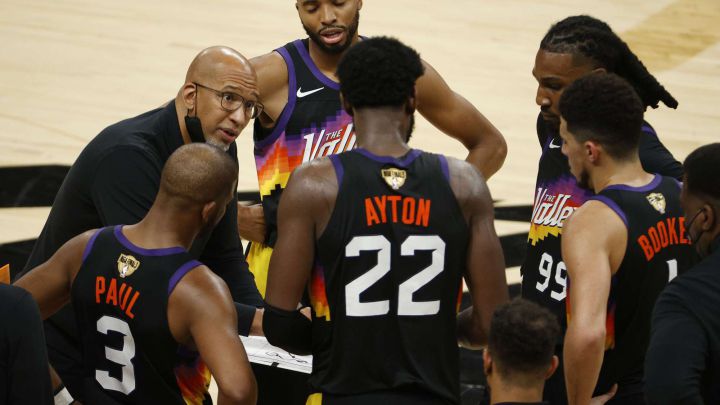 Phoenix Suns head coach Monty Williams insists that he and his players need to have the belief that they can take the finals to a decisive seventh game. The Suns go into Game 6 trailing 2-3 in the series but a victory on Tuesday would flip the situation on its head, with the Suns having home court advantage for the decider.
Communication issues in Game 5
Williams was quietly upbeat and in good humour when he faced the press on Monday, quipping, "It's never good when you get into the room and everyone gets quiet!" But the coach recognised the mistakes made in Game 5. "There were obvious breakdowns, but that's every game. But I also saw a lot of resilience and a no quit-attitude even in those moments. For us to be able to cut to one point, that was the thing that stuck out for me and gives our staff and team a lot of confidence as we go into this Game 6," he told reporters. "When we watched the film back, a lot of it was down to communication. We were back, didn't communicate well, they forced the issue and in the first half they got five threes off of that environment. It was some of us but a lot of them".
The coach knows that the situation could change completely if his team prevail at Fiserv Forum on Tuesday and added that his players have it within themselves to respond when the chips are down. "Our culture allows for that. From Day One, we said we weren't going to allow wins or losses to dictate the culture and the spirit of our gym," he explained. "When you lose in the play-offs, there is a natural tendency to allow it to dip a little bit because we are all human. But I think we have a level of bounce back on our team, in the organisation that allows for us to get the spirit back and I saw it yesterday when we got on the plane - the guys had the same look in their eyes. Those kinds of losses are hard but if you are going to do anything big, you have to overcome those hardships - I don't know of any team that won a championship that's just strolled into it. The deep, play-off hurt that happens and the ability to bounce back from that is something we've talked about".
Our players are used to competing on the big stage
The Suns have no margin for error and defeat in Game 6 would see the Bucks clinch the title. Their opponents have been through their own fair share of heartache and disappointment in previous bids for the title but Williams insisted that the hunger for both teams is the same. "We don't have that level of experience - but we have experience nonetheless. We don't have guys who have been in these situations but we have guys who have played on big stages before, and they understand - probably more than people think because in college, it was one game and you're out. Mikal's been in that situation - at Villanova… The combination of that and the grit, the want to win serves us well. It's not the best situation and we all know that but we're in the finals. This is not the beginning of the season where you lose three or four in a row, we're in the finals, we got here for a reason and our guys can glean confidence from that. Our guys have always wanted it but this situation is different - this is 'it' and I think we are going to see more, like we have throughout the play-offs," he concluded.