Suns vs Bucks NBA Finals Game 6: how and where to watch - online, TV
The Milwaukee Bucks have a chance to win the NBA Championship on their home court, as the Phoenix Suns look to extend the series in Game 6 from Fiserv Forum.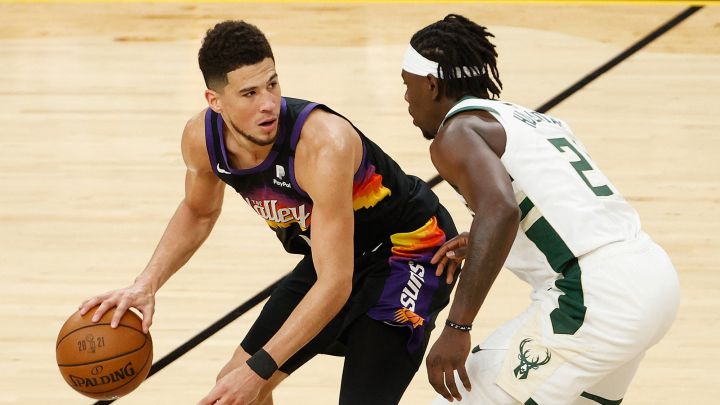 The Milwaukee Bucks are a win away from their second NBA Title in franchise history, and their first since 1971. The series heads back to Wisconsin as the Phoenix Suns look to force a Game 7 back in Arizona.
Follow the Suns vs Bucks Game 6 live online
The Bucks edged out the Suns in a thrilling fifth game on Saturday night thanks to a fabulous outing from the Bucks Big Three. The Bucks star trio have had individually incredible games throughout the post season, but waited until the most important road game of the playoffs to combine for their most complete performance to top Phoenix 123-119.
Giannis Antetokounmpo led the Bucks with 32 points and nine rebounds, while Khris Middleton dropped 29 and Jrue Holiday contributed 27 and 13 assists.
Defense was key in the opening four games, but Game 5 was marked by some explosive offense. The Bucks scored 43 points in the second quarter, and went to the fourth having already scored triple digits.
The Suns trailed by as many as 14 in the fourth quarter, but made dramatic comeback bid late in the game. Despite Devin Booker's 40 points and Chris Paul's 21 and 11 assists Phoenix wasn't able to close the comeback and drops to a 3-2 deficit after leading the series 2-0.
Milwaukee returns to Fiserv Forum for Game 6, where they held the best home record in the NBA going 26-10. Since the regular season started they have lost just one game on their home court, which came in Game 1 of the Eastern Conference Finals against the Atlanta Hawks.
Phoenix was the best road team over the course of the regular season winning 24 of 36 games outside of Arizona. They need one more road win if they want to stretch the series to a seventh game. Devin Booker, Chris Paul and Deander Ayton will have to be fantastic against an insatiable Antetokounmpo who is averaging 29 points and 12 rebounds this post season.
When Does Game 6 Start?
The sixth game of the NBA Finals between the Phoenix Suns and the Milwaukee Bucks will take place on Tuesday July 20th at Fiserv Forum. Tip off to Game 6 is set for 9 pm ET/ 6 pm PT.
How to watch Suns vs. Bucks
ESPN will broadcast the game nationally. If you can't be by the TV, you can also watch the Game on the Watch ESPN. If you don't have a cable login to access ESPN for a live stream, you can get a free trial from YouTube TV, Hulu with Live TV, AT&T TV Now, FuboTV, or Sling TV to stream the Game.