NBA draft 2021: six international talents with stateside stardom in their sights
Among the players set to be picked in the NBA draft on 29 July, there are several non-American talents seeking to emulate the likes of Nikola Jokic and Giannis Antetokounmpo.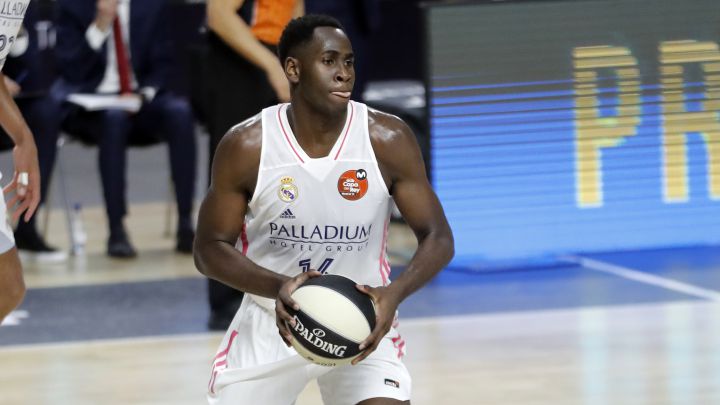 The NBA is a more and more international competition. This season's MVP, the Serbian Nikola Jokic, is evidence of that, as is the winner of the award in the two previous years, Greece's Giannis Antetokounmpo. In both cases, they arrived in the league via the draft, but without any previous experience in the United States, the Denver Nuggets going for the former and the Milwaukee Bucks placing their faith in the latter. Jokic, who was selected 41st overall in the 2014 draft, has become the lowest ever pick to be named NBA MVP. Antetokounmpo, 15th overall pick in 2013, has undergone a rise to the top almost without precedent, having started out in the Greek second division. Both are now franchise players for their teams and two of the most recognisable faces in the NBA. Without doubt, they're role models for many youngsters from around the world as they take their first steps in the game - a target to aspire to which seemed impossible not so long ago.
The 2021 NBA draft, one of the most eagerly anticipated in recent years, only serves to underline the American league's growing international flavour. Jonathan Kuminga will, according to most predictions, be one of the top five picks. Born in the Democratic Republic of Congo in 2002, he is shaping up as one of the greatest talents of his generation. However, his case differs slightly to Jokic and Antetokounmpo, and to most of the youngsters profiled in this article. In 2016, the small forward decided to move to the US to continue his basketball career. After finishing high school and rejecting a host of college offers, he opted to play in the G League, the NBA's development division. There, playing for NBA G League Ignite, a team created by the competition to nurture young talent, he has confirmed his abundant potential, starring alongside the American Jalen Green, another player set to be among the first five picks in the 2021 draft.
Barring any surprises, Cade Cunningham will be selected first in the draft, which is to be held on 29 July. Together with Cunningham, Kuminga and Green, Evan Mobley and Jalen Suggs could complete the top five, with the likes of Scottie Barnes and Davion Mitchell also potentially making it into that group. Behind them, plenty of talents hailing from outside the US are queuing up. According to ESPN's forecast, the German small forward Franz Wagner - brother of the Orlando Magic's Moritz Wagner - will be the 10th player selected. He also comes with an asterisk, it should be noted, as he spent last season in the US, with the University of Michigan. That's also the case of the Bahaman Kai Jones, who is in the frame to be a top-20 pick and has come through at the University of Texas, or the Spaniard Santi Aldama, who will seek out a place in the second round after his brilliant year at Loyola-Maryland. They are all part of that group of international talent with the potential to shine in the US, having already spent time in the country. Players like Usman Garuba of Real Madrid and Alperen Sengun of Besiktas, on the other hand, are among the non-American youngsters who the draft could take to the NBA from abroad. Josh Giddey, Rokas Jokubaitis, Filip Petrusev and Roko Prkacin also belong to that group.
Usman Garuba (Real Madrid)
He let out a yell of joy and it echoed across Europe. Against Anadolu Efes, Garuba produced one of those displays that signalled that what we're dealing with is a serious talent. He had already offered up plenty of warning, but his 24 points and 12 rebounds in game four of the EuroLeague playoffs series appeared to confirm it once and for all. Not only was it his best ever performance, but it came at the most crucial of times. In the ACB, he has averaged 18:20 minutes, with 5.8 points and 5.3 rebounds. In the EuroLeague, 16:17 minutes for 3.9 points and 4 rebounds. On the way, he has managed three double-doubles and collected the prize for the best young player in both competitions. He looks certain to have a bright future across the pond. As the season progressed, and he continued to come on leaps and bounds, his expected position in the draft did likewise. Currently, ESPN place him at 15, on the cusp of the lottery positions (1 to 14). He'll be there or thereabouts. Where could he end up? He has a number of very interesting options, from the Oklahoma City Thunder, the Houston Rockets or the Golden State Warriors, to the likes of the New York Knicks and even the Los Angeles Lakers.
Alperen Sengun (Besiktas)
In ESPN, Sengun's name appears, rightly, before Garuba's. Aged 18, he was the MVP in Turkey's Basketball Super League last season, averaging 19.2 points, 9.4 rebounds, 2.5 assists and 1.7 blocks. Besiktas undisputed leader, he steered the team to the semi-finals of the domestic competition, falling to the same side that ended up beating Garuba's Real Madrid in the playoffs. Anadolu Efes. Sengun has also established himself as a fixture in the Turkish national team, frequently taking the initative in the Turks' offence ahead of the likes of Cedi Osman, Furkan Korkmaz and Ersan Ilyasova. All players good enough for the NBA, where his sights are now set. A center with an endless arsenal of offensive weapons, he is good with his feet and, although he's a born finisher, he has developed his distribution abilities from the post. ESPN's Jonathan Givony has heaped praise on the player, describing his 2020/21 campaign as "one of the most productive seasons in European basketball history for a teenager". Where he most needs to improve is in his defensive duties. But he is hungry to do just that, and brings a degree of intensity to every play that compensates for his at times slow reading of the game. Improvement in that area and in his outside shooting (19% in the Turkish league) would make him one of the very top prospects in the draft.
Josh Giddey (Adelaide 36ers)
Of the players profiled in this article, Giddey is expected to be the highest pick. One of those point guards who are highly sought-after these days. Six feet eight inches tall, he looks to be one of the draft's best distributors, if not the best. The Australian league's leader in assists (7.4), he has also registered good scoring (10.8) and rebounding averages (7.4). A classic outside player who, despite his defensive shortcomings, has a natural instinct for occupying spaces. Hence his good numbers underneath the rim and his ability to quietly amass steals. He's a wonderful passer who is a never-ending source of highlights, but there is room for improvement in his shooting. That's probably why he isn't higher than 14 in the mock drafts. In the Australian league, he was limited to 29% from distance. As the NBA's Juan Estévez notes, his percentage from catch-and-shoot opportunities is even lower: 26%. It's clear that he needs the ball to be dangerous, something which, in an NBA filled with stars, could hurt him. In total, his accuracy percentage in shooting is 51%. His qualities come to the fore in the pick and roll, which he focuses of a lot of his efforts on. His physique enables him to be very dangerous when attacking the rim amid aggressive defending and, if he finds himself trapped, he's able to find open shooters.
Rokas Jokubaitis (Zalgiris Kaunas)
His name will be in the draft but, unlike the rest, his immediate future may well not be stateside. Barcelona are expected to be his next destination. He'll be among the players picked anyway, albeit in the second round (ESPN expect him to be 44th). Aged 20 and six feet four inches tall, he has just had his most mature season with Zalgiris Kaunas, where he averaged 8.5 points and 3.9 assists in the Lithuanian league, and seven and 2.5 in the EuroLeague. A silver medallist with Lithuania in the 2016 Under-16 European Championship, he has long been viewed as a player with a big future. He has shown signs of inconsistency, but his talent is unquestionable. Now, moreover, he boasts plenty of elite experience in Europe for a player so young. The Lithuanian journalist Donatas Urbonas defines him in the following terms: "Right now, he's Lithuania's most promising young talent. He could be described as the country's wonderkid. He's a boy who's really focused on his basketball and who tries hard to improve every aspect he's still got to work on." Such aspects include his physique, which is far from being at the level of strength often needed in the NBA. A versatile outside player, his shooting has also proved a weakness, although this season he has shown he's on the right track in that regard. In the EuroLeague, he registered 47.8% on field goals, 38.8% from the perimeter and 75.6% from the free-throw line.
Filip Petrusev (Mega Basket)
Barring any surprises, Petrusev's name will also be called out in the second round of the draft (in 38th place, according to ESPN). Although he'll arrive in the US from Serbian club Mega Basket, the center has previously played in the States for Gonzaga Bulldogs, where, in his second season, he was named Player of the Year in the West Coast Conference. Aged 21, he already has ample experience of playing abroad, having also spent part of his youth career with Baskonia in Spain. His last year in the ABA League was characterised by the strengths he has shown throughout his career so far: good rebounding ability, mobility and dangerous shooting, having averaged 23.6 points and 7.6 rebounds, with 57.9% on field goals and 41.9% from the perimeter. Despite his height of six feet 11 inches, Petrusev is an offensive danger from anywhere on the court. He's a good screen in the pick and roll and a more than dependable option when it comes to finishing off plays. During his short career, one thing that has most been demanded of him is that he be a more intimidating player. This season, he managed 1.1 blocks per game, but showed clear signs of physical progress.
Roko Prkacin (Cibona Zagreb)
Prkacin might have been picked very close to Petrusev (36th, per ESPN), but he has finally opted to withdraw from the draft. He could find himself very high up in 2022. Like Petrusev, he'd also arrive in the US from the ABA League. His basic skill set is not on the same level of the Serbian, but his versatility makes him a hugely enticing prospect. With Cibona Zagreb, he has averaged 13.8 points and 7.4 rebounds. Aged 18, these figures are a foundation on which to aim much, much higher. Six feet nine inches in height, he can play both at 3 and 4. The son of Nikola Prkacin, he is very comfortable operating close to the post, but he is not limited to that. His speed - he boasts an explosive turn of pace - make him a dangerous player in transitions and, far from being restricted by his size, he shows excellent ability to avoid opponents. A player with the potential to be highly productive at both ends of the court, he has been compared by NBA Draft Room with Juancho Hernangómez. With 49.2% on field goals and 39.4% on three-pointers last season, he is becoming an ever more assured shooter, with the ability to carve out his own opportunities. He will now have another year to continue firming up his foundations.