Nowitzki: "Doncic is better than I was in my prime"
In an interview with NBA 2K, the German legend was full of praise for the point guard. Both will feature as the cover stars on the new NBA 2K22 videogame.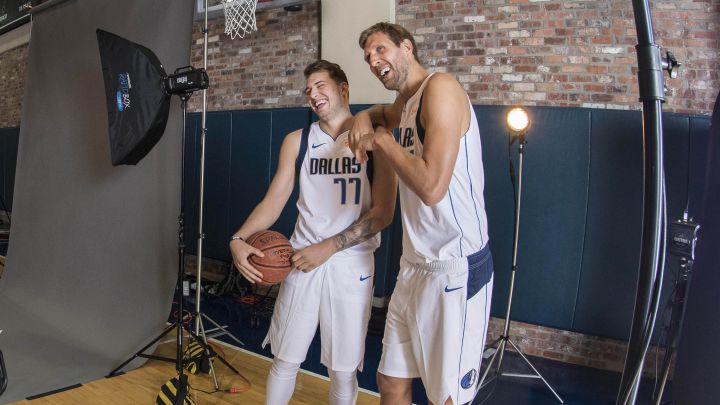 Dirk Nowitzki and Luka Doncic spent a season together at Dallas Mavericks. In some ways, the 22-year-old was seen as his replacement. The German legend, the most important player in the franchise's history, has bid farewell after 21 seasons, and as the leader of the only title ring in their honours list. With an average of 20.7 points and 7.5 rebounds. he was named the MVP for the 2007 regular season, a 14-time All Star and 12-time All-NBA member and the MVP of those glorious finals in 2011. It's a difficult legacy to any player to repeat, but if there is someone who could take the baton, it's Doncic. He averaged 21.2+7.8+6 in his rookie season, so while emulating Nowitzki is a tall order, he couldn't have asked for a more audacious start. Before he announced his retirement, Nowitzki gave Doncic his blessing although initially he had his doubts, as he explained when he recalled the first time he came into contact with the Slovenian, then still only 19 years old. "He came to the preparation field, before the preseason starts, the players exercise together, five against five … The first day, he (Doncic) was already playing great and leaving great I fixed my gaze on him and said to myself, 'I have to test him a bit.' I fouled him quite hard and sent him to the free throw line. I walked up to him and started trash-talking: 'There's no way you're going to take these two free throws.' He just smiled at me and didn't say anything. And he scored those two shots. So, he immediately earned my respect for his composure, for how mature he was".
Doncic is a good kid, I'll help him however I can - Nowitzki
Next season, Nowitzki and Doncic will be the cover stars on the new NBA 2K videogame. The Slovenian will be the main star on the front cover of the 2021-22 edition while Nowitzki will feature alongside Kareem Abdul-Jabbar and Kevin Durant in a special edition of the game to celebrate the NBA's 75th anniversary. "I'm proud to represent my country in a special cover that honors the colors of the Slovenian flag. Basketball has given me so much, and I'm excited to give back and work together with 2K Foundations this year to help the lives of young kids around the globe," Doncic said after the official design presentation. Nowitzki meanwhile, gave a clear indication of the huge respect he has for the former Real Madrid point guard, by enthusing to NBA 2K, "I would say that now, he's better than I was in my prime. And that how good he is at 22 already. And it's been a pleasure to be around him. He's a good kid, he wants to do well and that's been fun. If he has a question or if he's going through something. Obviously, I will always try to help him out".