Why has Michigan Gov. Whitmer vetoed a GOP proposal to end unemployment benefits?
Governor Gretchen Whitmer vetoed a GOP bill on Tuesday that would have cut off federal $300 booster to unemployment benefits for Jobless workers.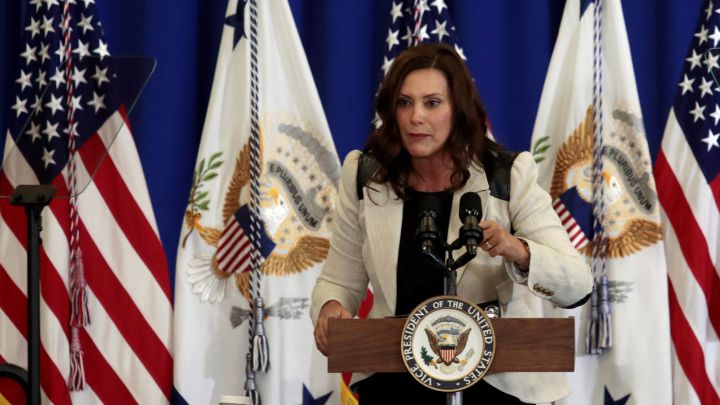 Michigan Republican lawmakers passed a bill in June that would have prevented the state from disbursing the extra $300 weekly that jobless workers receive on top of other unemployment benefits. On Tuesday Democrat Governor Gretchen Whitmer vetoed that bill but signaled that she would be open to ending the program in exchange for raising the state's weekly unemployment compensation.
Had she signed the bill, Michigan would have become the 27th state to decide to stop paying the extra weekly $300, and only the second Democratic governor to do so. The bill called for the payments to stop by the end of July, a little over a month before they are set to expire nationwide.
Two states have had to reverse course on the cancellation after unemployed workers sued their states over the decision to stop paying federal pandemic benefits. Louisiana will end payments on the extra $300 at the end of July. It is the last remaining state that has decided to drop the programs early that hasn't yet.
Federal pandemic unemployment benefits desincentivize returning to work
The reasoning behind the push to end the benefits early is the belief that they are hurting the economic recovery. As businesses gear up for an expected surge in customers, some are having trouble finding employees, especially for low-wage jobs. The labor shortage is blamed on overly generous the federal pandemic unemployment compensation programs, particularly the $300 weekly top-up to other benefits.
"Businesses have already done everything humanly possible to attract people back to work but people have been honest and simply said they're making too much money on unemployment to come back," Michigan Representative Beth Griffin said.
It's too early to say whether pulling these benefits has had the intended effect of helping employers address staffing shortages.

But nine workers we spoke with who recently lost the extra $300 a week described a challenging re-entry into the workforce. https://t.co/XVxjJ86Q3y

— PBS NewsHour (@NewsHour) July 17, 2021
Why did Gov. Gretchen Whitmer veto the GOP-backed bill?
Governor Whitmer in her veto letter argued that the economics of ending the programs early didn't make sense for the state writing "Ending these enhanced benefits on July 31, as proposed by HB 4434, would drain $1.5 billion from our economy – money that will instead flow into our local economies and support small businesses."
Although she sat on the bill for four weeks, there was also the time constraint with just six weeks left until the extra $300 weekly payments are set to expire. A state needs to give the Labor Department 30-days' notice that it will cease participation in the program. Furthermore, the bill passed with a 60-49 vote failing to get enough votes to become law immediately. The bill would not have taken effect until next year, well after the program had expired at any rate.
In the 12 states that cut unemployment benefits in mid-June:

1. 60% of UI recipients were removed from the program.

2. The employment rate *declined* by 1.4pp.

The UI situation is the worst thing happening right now.https://t.co/Q4vx4oefPU

— Matt Bruenig (@MattBruenig) July 20, 2021
Gov. Whitmer tries to cut a deal to get unemployed more money
Unemployed Michiganders receiving jobless benefits can expect at most $362 a week from the state. That falls short of its Midwest neighbors and is the lowest both in amount and percentage of wages comparatively according to the Michigan League for Public Policy. "That's just not enough money for a family to keep food on the table and a roof over their heads," Governor Whitmer said.
The governor did however indicate that she would be open to dropping the $300 weekly pandemic booster if lawmakers would provide additional help to the state's residents. "I am open to discontinuing the enhanced benefit early if this Legislature swiftly allocates federal funding for child care and raises the benefit commensurate with that of neighboring states," she wrote. Governor Whitmer would like Republicans to agree to a $60 raise to the maximum weekly unemployment compensation and $1.4 billion to tackle the child care shortage.
Governor John Bel Edwards made a similar deal with his state's Republican-controlled legislature. Governor Edwards is the only Democrat governor who has agreed to end any of the federal pandemic unemployment benefits early. He had been leaning toward ending the $300 weekly top-up to benefits by early August, but reached an agreement with state lawmakers to stop them 31 July. In exchange, next year unemployed Louisianans will get $28 more per week in state jobless benefits.