NBA
Giannis Antetokounmpo NBA Finals MVP: what records and titles has he got at age 26?
The Milwaukee Bucks beat the Phoenix Suns in game six of the series and crown themselves NBA Finals Champions.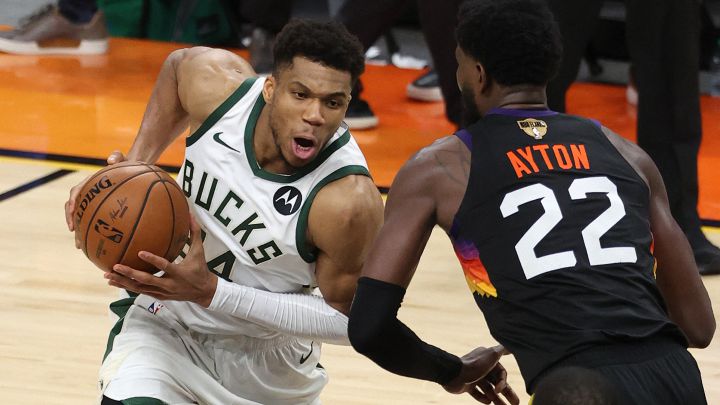 It took 50 years for the Bucks to win their second championship ring, and all thanks to an incredible Giannis Antetokounmpo who scored 50 points, grabbed 14 rebounds and made 5 blocks. An NBA finals performance worthy of legends like Michael Jordan and Koby Bryant.
The "Greek Freak" did not disappoint this NBA finals game 6. Anteto dominated the game both in defense and offense. His 20 points in a quarter are the most of any player in the last 25 seasons. The Greek was born to break records, and he is only 26 years old. So it is no wonder that LeBron Picked him for his team in this year ASG 2021.
Giannis records in the NBA
In 2016-17 he became the first player in NBA history to finish a regular season in the top 20 in all five statistics of total points, rebounds, assists, steals, and blocks. Moreover, he has also received 5 all-star team selections and has captained two All-Star teams in 2019 and 2020.
Giannis has won two MVP awards, doing so in back-to-back fashion in 2019 and 2020. The "Greek Freak" is the only player with Kareem Abdul-Jabbar and LeBron James to win it before turning 26.
In 2020 he not only won the MVP award, but he also won the NBA Defensive Player of the Year, becoming the third player in the history of the NBA to win both awards the same year. The others were Michael Jordan in 1988 and Hakeem Olajuwon in 1994.
NBA champion (2021)
NBA Finals MVP (2021)
Two times NBA Most Valuable Player (2019, 2020)
Five times NBA All-Star (2017–2021)
NBA All-Star Game MVP (2021)
Three times All-NBA First Team (2019–2021)
Two times All-NBA Second Team (2017, 2018)
NBA Defensive Player of the Year (2020)
Three times NBA All-Defensive First Team (2019–2021)
NBA All-Defensive Second Team (2017)
NBA Most Improved Player (2017)
NBA All-Rookie Second Team (2014)
Euroscar Player of the Year (2018)