Chris Paul emerges as Lakers' favorite offseason acquisition
The Lakers are in the market for a point guard, and there are a few names in the mix. Chris Paul's friendship with LeBron James makes him the favorite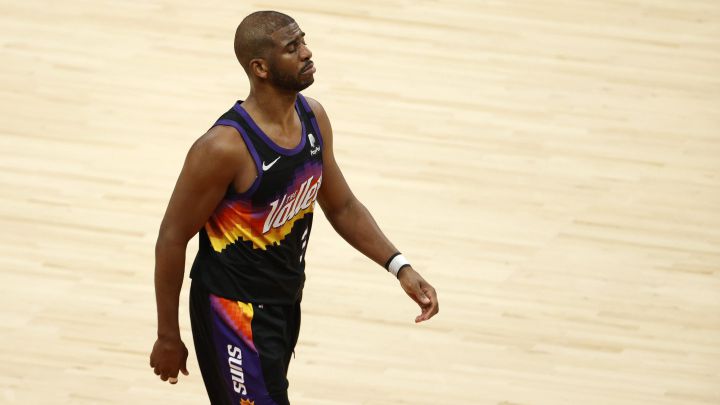 Just days after the end of the NBA season, the Lakers are on the hunt for a point guard that will beef up their chances of a title run for next year. The search is on for a point guard to guide the 17 time champs to the promise land in the season to come.
James and Paul long time friends
Two names have risen to the surface and one in particular after a tweet from Magic Johnson sounded alarms following the Suns Game 6 loss to the Milwaukee Bucks in the NBA Finals. Johnson said that if Paul opts out of his contract with Phoenix, he should be expecting a call form LeBron James.
James is Paul's best friend in the NBA, and The King was even in attendance for Game 5 of the Finals in Phoenix to cheer on his buddy. In a courtside interview James said, "I'm proud as hell for CP, I'm here for CP. We've been a brotherhood since we came in the league."
If Chris Paul opts out of his contract with the Suns, his first call should be from his best friend LeBron James and the Lakers.

— Earvin Magic Johnson (@MagicJohnson) July 21, 2021
Paul has opt out option

James is known for building super teams, and if he so desires, the Lakers would have a tough time denying their franchise player his wish. Paul has the option to opt out of his contract this offseason. Paul was quick to shut down rumors of an exit, saying he couldn't wait to return to Phoenix for another chance at a title.
The other option the Lakers could be considering in the offseason market. He is under contract with the with the Washington Wizards. Westbrook and the Wizards would have to come to an agreement on a sign and trade.
Westbrook has close ties to LA
The Wizards will try to hold on to the star guard, but Westbrook is from Los Angeles and went to college at UCLA. The Instagram interactions between Westbrook and James and LA big man Anthony Davis have added fuel to the fire.
The Lakers were knocked out of the playoffs in the first round by Chris Paul's Suns, but they have a chance to take the upper hand on the Celtics in NBA Titles. Both are tied at 17 championships, but LA is already second favorite only to the Nets in the eyes of the oddsmakers to win it all next year.