Red Sox win wild one over Yankees, Giants stun Dodgers late
Four New York Yankees' wild pitches in the 10th inning helped the Boston Red Sox finish a comeback victory at Fenway Park.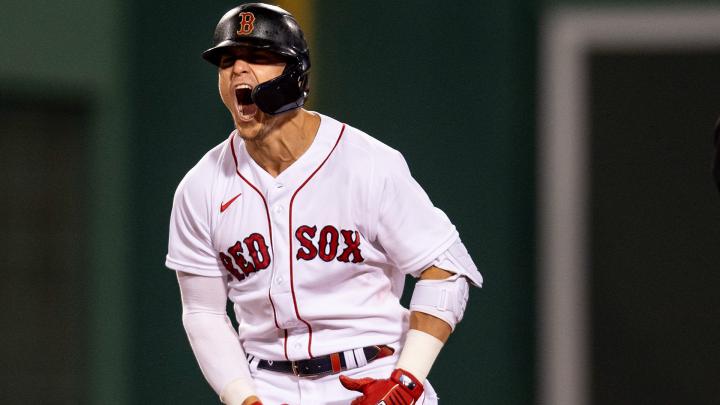 The Boston Red Sox and New York Yankees have faced each other more than 2,000 times dating back to 1901, but they have never had a game end quite like Thursday's. Four wild pitches by New York reliever Brooks Kriske in the 10th inning brought home the tying run and set up the winning run as Boston prevailed 5-4 at Fenway Park.
The Red Sox had trailed 3-1 with two outs in the ninth inning when Kike Hernandez ripped a two-run double to left-center off Chad Green to tie the game and send it to the 10th. Thanks to MLB's second-year rule that puts a runner on second base to start each extra inning, New York was able to take a 4-3 lead on a groundout and a Brett Gardner sacrifice fly in the top of the inning, but Boston did them one better.
Two wild pitches by Kriske brought Rafael Devers home from second to make it 4-4, and after Xander Bogaerts drew a walk, two more wild pitches moved him to third. After J.D. Martinez struck out, Hunter Renfroe lifted a sacrifice fly to right field to drive home Bogaerts with the winning run – all without benefit of a hit.
According to Stats Perform, Kriske is the first pitcher in MLB history to throw at least four wild pitches in one extra ininng. "There's a lot of guys battling their butts off and it sucks to be the one to blow it for the team," Kriske told reporters. The Yankees sent him to the minor leagues after the game.
Giants stun Dodgers late
The San Francisco Giants scored four runs in the ninth inning for a shock 5-3 victory over the rival Los Angeles Dodgers as they opened up a three-game lead over LA in the National League (NL) West division.
Down 3-1 with two out in the ninth, the Giants loaded the bases and earned a reprieve when video replay overturned a call at second base that would have been the final out of the game. Darin Ruf then walked on a controversial checked-swing call to force in the tying run before LaMonte Wade's two-run single off Dodgers closer Kenley Jansen broke it open.
The Tampa Bay Rays pulled out another late victory, scoring twice in the ninth inning and again in the 10th to defeat the Cleveland Indians 5-4. Entering the ninth trailing 4-2, the Rays got a leadoff homer from Yandy Diaz and a two-out double by Brandon Lowe to tie the game, then brought home the go-ahead run on Austin Meadows' single in the 10th.
The Detroit Tigers remain undefeated since the All-Star break, getting a three-run first-inning homer from Eric Haase and going on to beat the Texas Rangers 7-5 to complete a four-game sweep and extend their winning streak to seven games. The Tigers were 9-24 on May 7 but are 38-27 since.
Sean Manaea struck out a career-high 13 for the Oakland Athletics in a 4-1 victory over the Seattle Mariners.
Braves get to Moore
After allowing six earned runs over his last four outings combined, Philadelphia Phillies starter Matt Moore gave up six in the first four innings of a 7-2 loss to the Atlanta Braves. Dansby Swanson's third-inning grand slam was the big blow for Atlanta.
Another robbery by Bader
St Louis Cardinals center fielder Harrison Bader made a maximum-effort play to end the top of the seventh inning, robbing Nico Hoerner of a bloop single to help the Cardinals hang on to a lead and eventually defeat the Chicago Cubs 3-2.
Thursday's results
Detroit Tigers 7-5 Texas Rangers
Tampa Bay Rays 5-4 Cleveland Indians
Atlanta Braves 7-2 Philadelphia Phillies
Boston Red Sox 5-4 New York Yankees
San Diego Padres 3-2 Miami Marlins
St Louis Cardinals 3-2 Chicago Cubs
Los Angeles Angels 3-2 Minnesota Twins
Oakland Athletics 4-1 Seattle Mariners
San Francisco Giants 5-3 Los Angeles Dodgers

White Sox at Brewers
The Chicago White Sox (58-38) and Milwaukee Brewers (56-41) both have healthy leads in their divisions heading into a week-end showdown in Milwaukee.