MLB
Dodgers-Giants controversy enrages Roberts
The Dodgers and Giants combined to make history in their four-game series, but Dave Roberts was focused entirely on a controversial end.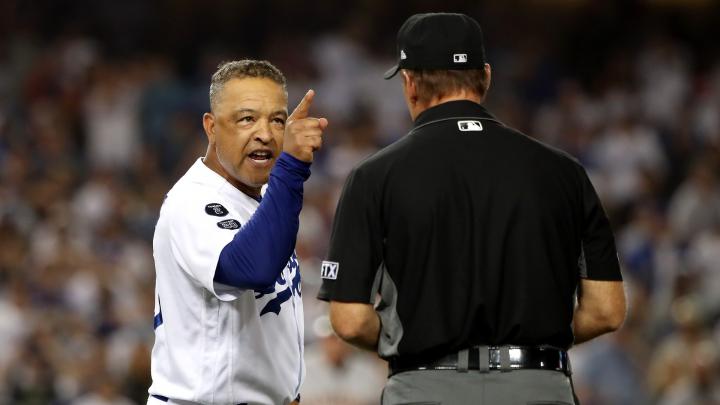 The Los Angeles Dodgers and San Francisco Giants produced an MLB first as a controversial end to the latest series in their historic rivalry left ejected manager Dave Roberts apoplectic.
Controversial call angers Dogers' Roberts
Dodgers manager Roberts sprinted to confront first-base umpire Ed Hickox in the ninth inning after he ruled Darin Ruf did not swing on a pitch outside the strike zone on a full 3-2 count with two men out and the bases loaded, awarding the Giants a walk that tied the game at 3-3.
Los Angeles thought the game was over moments earlier when Jason Vosler was ruled to have been thrown out at second base, only for the umpires to rule him safe on review, with Sheldon Neuse unable to keep his foot on the bag as he caught Chris Taylor's throw, meaning Thairo Estrada's groundball trimmed the Dodgers' lead to 3-2.
Hickox's contentious decision followed, setting up LaMonte Wade Jr to give the Giants a 5-3 lead with the next at-bat with a two-run single to right field.
In the @Dodgers - @SFGiants series:

Tue: LAD trailed in 9th, scored 3 to win
Wed: SF trailed in 9th, scored 3 to win
Thu: SF trailed in 9th, scored 4 to win

It's the only MLB series in the modern era to have 3 games where one team trailed in the 9th & then scored 3+ runs to win

— Stats By STATS (@StatsBySTATS) July 23, 2021
The Giants held on to that advantage to take a three-game lead over the Dodgers in the National League West, with Los Angeles left to pick up the pieces after a third successive blown save from closer Kenley Jansen and his second in as many nights against San Francisco.
San Francisco prevailed 3-1 in the four-game series, which is the first in the modern era to have three games in which the team trailing in the ninth inning scored three runs to win, according to Stats Perform data. The Dodgers scored three runs in the last to emerge victorious on Tuesday, before the Giants scored three on Wednesday and four on Thursday to solidify their grip on the division.
But that piece of league history will have been of no interest to a furious Roberts.
"There's no doubt in my mind that he went [around and swung] and the game should have been over," Roberts said. "Eddie's a very good umpire, been around a long time. But in that spot, two contending teams, you just can't miss that call.
"The game should have been over and there's no other way to look at it.
"There's a lot of people that are really p****d off and I'm leading the way. We should have won that game. It's a game we really wanted, we had and we didn't. The game should have been over, man. I don't think the blame should be all on Kenley at all.
"I thought that play at second base, if we stretch, he's out and the game's over. The checked swing, the game's over and we're not having this conversation. I'm not reconsidering his [Jansen's] role."
Ruf, meanwhile, was able to reflect on the turning point with a smile.
"At that point, I'm just trying to have a good at-bat," Ruf said. "The 2-0 pitch was probably outside, but those things happen throughout the course of an at-bat. You just have to move on.
"After I got to 2-2, I just really wanted to see a pitch in the middle. He has three pretty good pitches and luckily I laid off the 2-2. The 3-2 was kind of a high backup cutter and luckily that call went our way.
"I'm just thinking, 'Please say I didn't go [and swing]. I think at full speed it was really, really close.
"Luckily that call went our way tonight and then LaMonte came up huge."