Giannis Antetokounmpo: is he the NBA's best ever European player?
After leading the Milwaukee Bucks to their first title in half a century, does Giannis Antetokounmpo top the likes of Dirk Nowitzki, Pau Gasol and Tony Parker as Europe's greatest export to the NBA?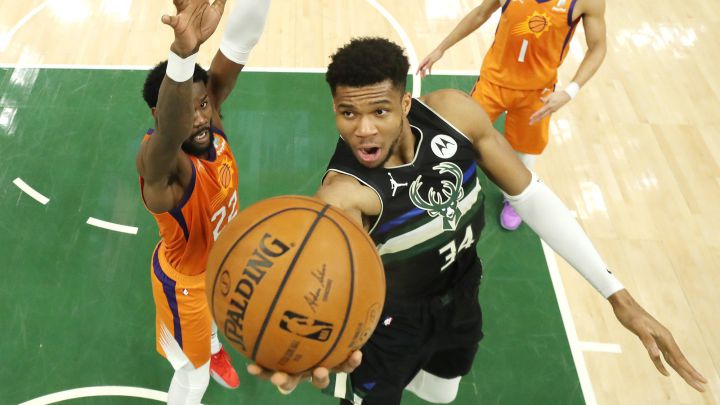 For much of his NBA career, Giannis Antetokounmpo has, to an extent, been viewed as something of an enigma. A prospect who was very green and very skinny when he arrived at the Milwaukee Bucks as 15th overall pick in the 2013 draft, he became well-known for having a name that was difficult to pronounce, let alone spell. He developed quickly, in every way: his physique and his game came on at a breakneck pace, and the awards began to pile up. But something else he began to amass was disastrous playoff experiences. And in the wake of the Bucks' defeats to the Toronto Raptors in 2019 and the Miami Heat in 2020, he bore the brunt of the scathing reviews. That he was the NBA's MVP in both of those seasons served not to assuage such criticism, but in fact to accentuate it. The Bucks had failed to make good on their status as title favourites and many stopped believing in a player who lost his way late on in games and got himself bogged down in muddled plays, as opposing defences exploited his lack of outside shooting.
Antetokounmpo has drawn on the defeats to become the player he is
The reality of it, however, is that Antetokounmpo was maturing, learning, processing his mistakes, working hard. Improving. His immense physical attributes were always going to acquire a new dimension as he bettered his reading of the game, gained in experience and developed his movement. A quiet, reserved lad who clings tightly to his family and close friends, he's not your average NBA star of today. He was only too keen to commit to the team that drafted him. Before this season, amid rumours that he could leave to play alongside the very biggest names at a more prestigious franchise, he signed an extension that was an NBA record: five more years, worth a total of $228 million.
For an Athens-born lad of Nigerian origin who grew up still waiting for Greek nationality as Yannis Adetokunbo, a surname that for the Yoruba people means "the crown has returned from beyond the seas", it's more, much more, than he could ever have dreamed of. Antetokounmpo began playing basketball in 2007, at the age of 13. Four years later, he was playing for Filathlitikos in the Greek second division, and a year after that, after turning 18, he agreed to join CAI Zaragoza. They knew they were signing a player with infinite potential, and planned to enjoy him while they could before he inevitably made the jump to the NBA. However, he was picked higher in the draft than expected, his journey to the US came ahead of schedule, and Zaragoza never did get to enjoy having him in their ranks. That said, they did make a profit of a little over €300,000 from the transfer of his rights, after deducting agents' commissions, taxes and the amount they had paid to sign him.
Antetokounmpo made his NBA debut on 30 October 2013, scoring one point in a run-out against the New York Knicks that lasted less than five minutes. He was 18 years and 328 days old, and the Bucks went on to win a mere 15 games during that first season (finishing with a 15-67 record), as he averaged just under seven points and a little over four rebounds. By his second season, he was a starter for the Bucks and by his fourth, he was an All-Star, Most Improved Player and a part of the All-NBA Second Team. In his sixth year in the NBA, he was named MVP and made it into the All-NBA First Team. In his seventh, he was MVP and Defensive Player of the Year. And in his eighth, he's become NBA champion, NBA Finals MVP - and, surely, the best European player in the history of the NBA. At least when it comes to which European has had the best career in the NBA.
2021 NBA Finals replete with memorable Antetokounmpo moments
As incredible as it sounds, Antetokounmpo has in the space of two years gone from being panned for the Bucks' playoffs exits and the limitations in his game, to being an NBA icon after producing unforgettable performances in the Finals. It was a series in which he did not want for memorable moments: his block on DeAndre Ayton in Game 4, his alley-oop with Jrue Holiday in Game 5 and, of course, his 50 points, 14 rebounds and five blocks in the decisive sixth game, a masterful display that made sure of the Bucks' first NBA title in 50 years. His physical energy and incomparable skills were now complemented by mature, indestructible leadership, an unshakeable winning mentality and a newly-acquired understanding of the game that minimised his weaknesses and maximised his strengths, as he defended throughout the court and attacked ever closer to the rim. In Game 6, his new mental fortitude led him to sink 17 out of 19 free throws. They're something he's always struggled with. He didn't let the taunts of the opposing fans, and the nerves of his own, affect him, finding the basket when he needed to find the basket.
He was the clear choice for Finals MVP after registering an incredible set of averages: 35.2 points, 13.2 rebounds, five assists, 1.8 blocks and 61.8% shooting. Nobody ever before had managed 30+10+5+60% in the fight for the title. Nobody else has won regular-season MVP (he has two), Finals MVP (which began to be awarded in 1983), Defensive Player of the Year and Most Improved Player during the course of their career. And, until now, only Michael Jordan and Hakeem Olajuwon had the first three. Antetokounmpo is only the seventh player in the 75 years of the NBA to reach 50 points in a Finals game, something only LeBron James had done, in 2018, since Jordan in 1993. He's also the first player to register 50+10+5 blocks in any playoffs clash since 1973 (when blocks began to be counted); the first over 40+10+5 since Shaquille O'Neal in 2001; and the first since Shaq to manage 40 points and 10 rebounds in three games in the same Finals series, one of which saw him hit at least 20 points in two separate quarters. The last man to do that, and he only did it once, was Jordan in 1993… also against the Phoenix Suns.
Antetokounmpo has been an All-Star for five straight seasons (2017-21), has made the All-NBA First Team three times, the All-NBA Second Team twice, the All-Defensive First Team three times, and the All-Defensive Second Team once. And, one imagines, he still has the best years of his career ahead of him. In an era in which players change teams constantly and loyalty is short, he is building a career at a franchise that has grown with him: from just 15 victories in his first season at the Bucks, to winning a championship ring after three years that have brought a 71% win rate in the regular season and in which he has averaged 28.4 points, 12.3 rebounds and 5.8 assists. He finished the 2019/20 season with the best player efficiency rating (a stat compiled by ESPN) in history, and did the double of MVP and Defensive Player of the Year. Only Jordan and Olajuwon had done that in the same season, and, if you open it out to those who have won both in separate years, there are only two more names: Kevin Garnett and David Robinson. In the entire history of the NBA.
Giannis' achievement in leading Bucks to title at 26 is not a common one
Those who wrote Antetokounmpo off as a player who could lead his team to the title forgot to take into account his age and his potential for growth; the things he could end up achieving with the raw attributes he boasted. Aged 25 the last time he lost a playoffs series, he has now become a champion at 26. And the history of the NBA shows that franchise players who lead their team to an NBA championship don't tend to manage it right away in their careers. LeBron James won his first ring at 27, Jordan at 28.
The journalist Micah Adams explains that, since the ABA-NBA merger - a unification of two leagues that began the American basketball league's modern era - it's hard to find players of such a young age who have so clearly been the best player and leader of their locker room and have won an NBA title in this fashion. There's Bill Walton in 1977 (at the age of 24), Larry Bird in 1981 (24), Magic Johnson in 1985 (25), Tim Duncan in 1999 (23) and Dwyane Wade in 2006 (24). It's not about whether or not they were the Finals MVP; it's about being the clear franchise player, the leader of the team and the organisation. And if you dig a little deeper, you see that Duncan had David Robinson, Magic had Abdul-Jabbar, Bird had Kevin McHale and Robert Parish, Wade had Shaq… In terms of age, playing colleagues and outcome, Walton in '77 is the closest thing you'll find in the modern NBA to Antetokounmpo, whose achievements in the 2021 playoffs are simply historic.
Antetokounmpo vs Nowitzki
So can we safely say he is the greatest European player ever in the NBA? His accomplishments certainly seem to point to that conclusion. Up to now, Dirk Nowitzki had been the gold standard, and it wouldn't be unreasonable to argue he still is. Before 2021, he was the only European to have won regular-season MVP and, in the year of his only championship ring, Finals MVP. What's more, he's a 14-time All-Star and the sixth highest scorer in the history of the league, having spent an NBA-record 21 years at the Dallas Mavericks. Above and beyond nationalities and continents, he's rightly considered a giant of the game. However, it's also true that Antetokounmpo has already claimed two regular-season MVPs; an Finals MVP in his one title win so far; and an All-Star Game MVP, too. And he's been an All-Star four times at 26, an age at which Nowitzki had been selected four times.
Tony Parker and Pau Gasol tend to be the next names mentioned after Nowitzki. The Frenchman, a San Antonio Spurs legend, won the NBA title four times and won one Finals MVP, becoming the first European to scoop the accolade. He is also a six-time All-Star. Meanwhile, Gasol left the NBA with six championship rings and six All-Star appearances. Now, others are emerging: the likes of Nikola Jokic, the most recent NBA MVP and a three-time All-Star; and Luka Doncic, a player who has been an All-Star twice and promises to finish up with a legendary CV. But no European has dominated in the way Antetokounmpo has; certainly not at such an early age and with performances as impressive as those he produced in the 2021 Finals. Nowitzki comes closest with his stunning exploits against LeBron's Heat in 2011.
In a year, Antetokounmpo has silenced those who doubted his ability to be a superstar and a winner, and has established himself as a legend. He's pulled off unforgettable feats in these playoffs - and heaven knows how far he can go from here. Because he still has many, many more years of basketball in him.