US Coronavirus: should I wear my mask in public spaces if I am vaccinated?
Vaccinated individuals are far better protected against the Delta variant but some health officials suggest that continued mask-wearing will help prevent the spread of covid-19.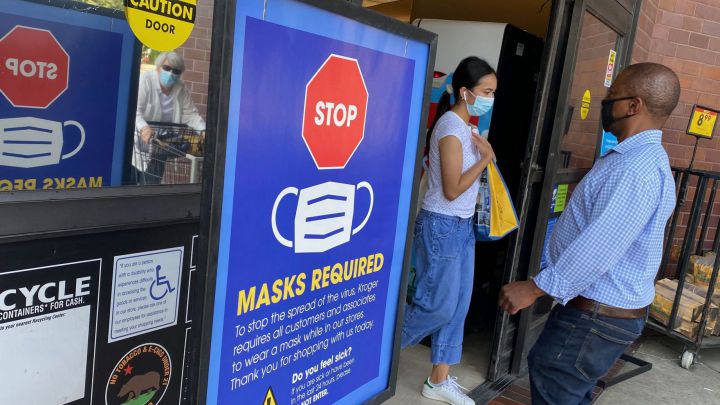 There is growing concern in the medical community about the impact that the Delta variant of covid-19 could have on the United States' post-pandemic recovery. Studies have shown that the strain is far more contagious than the original virus and has been linked to a number of 'breakthrough' infections in vaccinated individuals.
The evidence shows that vaccinated people are still far safer; over 97% of hospitalised covid-19 patients were not fully vaccinated. Furthermore while a small proportion of vaccinated people have become infected, their symptoms are overwhelmingly likely to be mild or entirely non-existent.
However with the risk of further mutations if the virus is allowed to spread, should vaccinated people be wearing a mask in public places?
Fauci suggests mask-wearing could help limit infection
In response to both the increase in case numbers nationally and the specific risk of infection amongst vaccinated people, the White House' chief medical advisor Dr Anthony Fauci suggested that mask-wearing could help.
He said that indoor mask-wearing could be a useful precaution, telling CNBC on Wednesday: "If you want to go the extra mile of safety even though you're vaccinated when you're indoors, particularly in crowded places, you might want to consider wearing a mask."
"We're going in the wrong direction. And since we have 50 percent of the country [that] is not fully vaccinated, that's a problem, particularly when you have a variant like Delta, which ... spread[s] very efficiently and very easily from person to person" https://t.co/p9Fs36j14h

— Yahoo News (@YahooNews) July 25, 2021
The federal mask mandate is no longer in place so vaccinated individuals are no longer required to wear masks in shops, bars and other public places, but the Delta variant has surprised experts with its contagiousness.
Fauci added that this could be particularly important in areas where the rate of infection is particularly high, saying: "It's suggested that you wear a mask when you are indoors in a situation where you have a level of dynamics of virus in the community that's high."
Delta variant is shown to be particularly infectious
The new advice from Fauci on mask-wearing comes as experts learn more about the Delta variant, which is now believed to account for more than 83% of covid-19 cases sequenced in the United States.
Getting vaccinated is the most important thing you can do to protect yourself and the people around you from the Delta variant of COVID-19. Find a free vaccine near you at https://t.co/4MYpWqXVVo.

— President Biden (@POTUS) July 25, 2021
This is thought to be caused by the massive viral load that it inflicts on patients, around 1,000 times greater than the original virus. This does not been that people will get more sick or suffer worse symptoms, but it means that it is incredibly easy to pass the infection on and could mean that infected patients remain contagious for far longer.
Dr. Peter Hotez, dean of the National School of Tropical Medicine at Baylor College of Medicine, told the New York Times: "This is twice as transmissible as the original lineage of covid."