OLYMPIC GAMES | WRESTLING
What types of wrestling are at the Olympics? Differences, rules, format and score system
Do you know your freestyle wrestling from your Greco-Roman and the various weight divisions used to determine winners in Tokyo? if not, read on.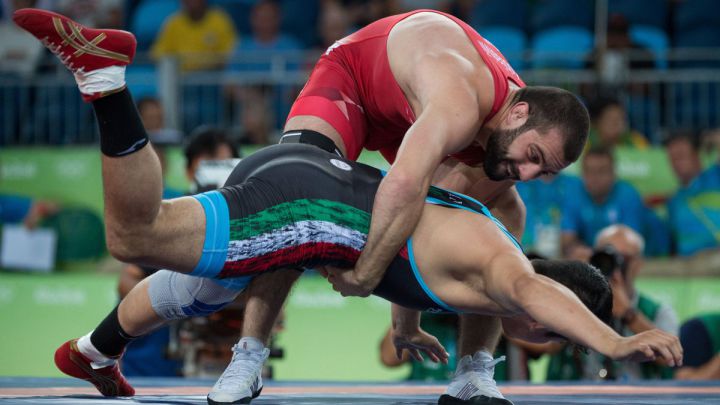 No bikes, no discs, no hurdles, no raquets…in fact, no equipment needed at all. This is wrestling at the Olympic Games, a sport considered to be the oldest in existence, and we wanted to have a look at the types involved and how the medals will be decided.
Tokyo Olympics: how does the wrestling work?
The wrestling this summer welcomes 96 men and 96 women to compete in Japan. It will all take place in the Makuhari Messe Hall in Chiba City. The first clashes begin at 10pm on Saturday 31 July (ET USA) and this builds until the medal bouts which appear from Monday 2 August morning sometime around 6 am ET. With so many categories, the last gold medal to be won will be on the morning of Saturday 7 August, and it will be the Women's Freestyle 50kg.
So, what wrestling categories are there?
OK, before we check out the weight levels that will be fought, let's take a rather large step back in time, all the way to the ancient Olympics a few hundred years before we changed the clocks from BC to AD, when wrestling was cheered on by the masses. By the end of the 19th century, at the first modern Games, we saw the Greco-Roman style introduced and that was followed in 1904 with the inclusion of freestyle wrestling, although women had to wait a further 100 years for their chance to compete for medals.
"But what are the differences between the two?" I hear you ask. It's pretty simple, to be honest.
Where freestyle allows wrestlers the opportunity to use any part of their body to reach the objective of pinning both shoulders of their opponent on the mat, those taking part in Greco-Roman can only use their arms and upper bodies.
The mat that acts as the scene of these battles is circular, with a diameter of nine meters, which includes a one meter orange band - the passivity zone - on the outside. Although that orange zone is still 'in-bounds', the referee will shout "zone" when the fight settles there, and the wrestlers return to the centre.

Here are the style and categories in completion for Tokyo.
Freestyle categories:
Men
57kg
65kg
74kg
86kg
97kg
125kg
Women
50kg
53kg
57kg
62kg
68kg
76kg
Greco-Roman categories:
Men
60kg
67kg
77kg
87kg
97kg
130kg
Tokyo Olympics: how do you score points in wresting?
A bout lasts six and a half minutes with a 30 second break in the middle of two halves of three minutes. The bout can, however, end before that time elapses in the case of technical fall, that means the winner leads the opponent by 10 point margin or the opponent has a free fall with both the shoulders pinned down to the mat by the winner.
Key terms to be aware of:
Takedown: you score 2 points if you pin down your opponent and have control on top of your opponent.
Reversal: when you are down on the mat after takedown, if you manage to reverse your opponent, you will get 2 points
Escape: one point is awarded to the wrestler if he/she goes to a neutral position escaping from the control of the opponent after takedown
Near fall: when you have your opponent not fully pinned down but to an angle of 45 or less for 2 seconds, you will score 2 points and will score 3 points if it is for five minutes or more.
Penalty points: penalty points are awarded to your opponent if you do some code violations. Let us see some of the standard rules and code violations.
Stalling: one or both wrestlers not trying to wrestle each other and wasting time. Initially, a warning will be given, then one penalty point, then two penalty points, then again two penalty points, and then if it continues, it leads to disqualification.
False start: wrestler starting before whistle blow will be given one penalty point for each time he does but no disqualification in this
Illegal holds: illegal wrestling moves such as headlock without holding arms will lead to a penalty point, and you will be disqualified for the 4th time.
Technical violations: technical violations include improper uniform, damaging the opponent's headgear, running away from the mat, injuring the opponent on purpose, which will lead to immediate one point, second-time two-point, then disqualification.
How is a winner decided?
As you may imagine, the wrestler with the most points is deemed the winner. If, however, the score is tied, then the wrestler with the most points awarded from a single move will be declared the winner.
Tokyo Olympics: which wrestlers to watch out for
One of battles to keep an eye on is the men's 97kg freestyle that sees the US' Kyle Snyder, reigning champion at this weight, aiming to hold onto his crown against the most likely challenger, Russia's Abdulrashid Sadulaev, himself a previous gold winner but not at this weight.
In the Greco-Roman field, there is no doubt that Cuba are worth watching, as three-time Olympic gold medalist Mijaín López, along with defending world and Olympic champion Ismael Borrero, both head in with confidence. In the women's freestyle, Sara Dosho and Risako Kawai, both defending Olympic champions, will likely keep Japan in the driving seat of the event.