MLB
Phillies move past Mets into first place, Brewers edge Giants
Bryce Harper and the Philadelphia Phillies are alone in first place for the first time since May after beating the New York Mets.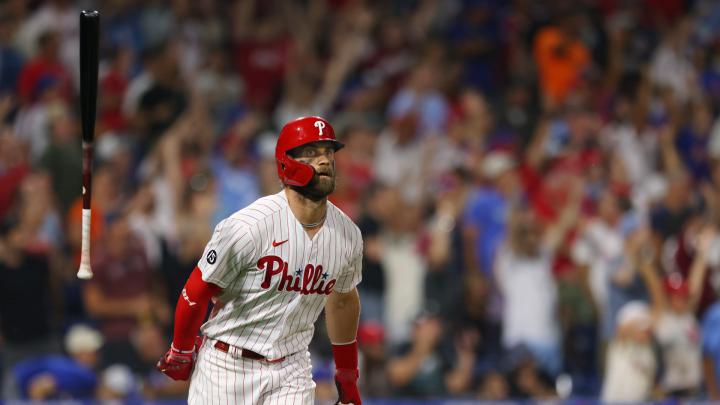 The Philadelphia Phillies surged into first place with their sixth consecutive win, beating the New York Mets 4-2 on Friday.
Bryce Harper's two-run homer in the eighth inning provided what proved to be the winning margin as the Phillies took over sole possession of the top spot in the National League (NL) East for the first time since May 7. That was also the last day the Mets spent outside first place, as they have seen a lead that once stood at five games evaporate in dropping four of their last five games.
Trade-deadline acquisition Kyle Gibson allowed one run in his six innings and added an RBI single for the Phillies, who also got a home run from Didi Gregorius as they handed Marcus Stroman the loss.
Brewers walk it off against Giants
Rowdy Tellez's 10th-inning single gave the Milwaukee Brewers a 2-1 win over the San Francisco Giants in a matchup ot the teams with the two best records in the National League. Milwauke's Avisail Garcia and San Francisco's Brandon Belt had traded solo homers for the only other runs of the game.
The Chicago White Sox did not get what they expected out of their lockdown bullpen but still managed to pull out an 8-6 win over the rival Cubs in 10 innings. Newly acquired reliever Craig Kimbrel allowed a three-run homer to Andrew Romine in the eighth to tie the game at 4-4, but the White Sox put four on the board in the top of the 10th on a homer from Brian Goodwin and RBI singles by Gavin Sheets and Tim Anderson.
Brett Gardner gave the New York Yankees a 3-2 walk-off win over the Seattle Mariners with an 11th-inning single in a game that saw the Yankees use nine pitchers, none working more than 1.2 innings.
Dodgers' extra-inning woes continue
The Los Angeles Dodgers lost 4-3 to the Los Angeles Angels in 10 innings, their 11th straight defeat in extra-inning games. That was not even the worst news of the day for the defending World Series champions, though, as Mookie Betts left the game after six innings with right hip discomfort.
Boston Red Sox starter Nathan Eovaldi cruised through four scoreless innings against the Toronto Blue Jays before everything came apart on him in the fifth. Toronto scored nine times in the frame, with seven of the runs charged to Eovaldi, as they rolled to a 12-4 victory at Rogers Centre.
Marte makes it count this time
Starling Marte's first home run after joining the Oakland Athletics was meaningless, a solo shot in an 8-1 loss earlier this week. His second made a bit more noise, a three-run bomb in the 11th inning to give the A's a 4-1 victory over the Texas Rangers.
Friday's results
Tampa Bay Rays 10-6 Baltimore Orioles
Milwaukee Brewers 2-1 San Francisco Giants
Cincinnati Reds 10-0 Pittsburgh Pirates
Philadelphia Phillies 4-2 New York Mets
New York Yankees 3-2 Seattle Mariners
Toronto Blue Jays 12-4 Boston Red Sox
Colorado Rockies 14-2 Miami Marlins
Oakland Athletics 4-1 Texas Rangers
St Louis Cardinals 4-2 Kansas City Royals
Atlanta Braves 8-4 Washington Nationals
Cleveland Indians 6-1 Detroit Tigers
Chicago White Sox 8-6 Chicago Cubs
Arizona Diamondbacks 8-5 San Diego Padres
Minnesota Twins 5-4 Houston Astros
Los Angeles Angels 4-3 Los Angeles Dodgers
Red Sox at Blue Jays
The Boston Red Sox (64-47) have lost seven of their last eight games to fall out of first place, but they have a chance to recover with a doubleheader at the Toronto Blue Jays (58-49).