MLB
MLB round-up: Phillies beat Mets as Jays take out Red Sox
Zack Wheeler pitched a shutout as the Philadelphia Phillies closed out a sweep of the New York Mets.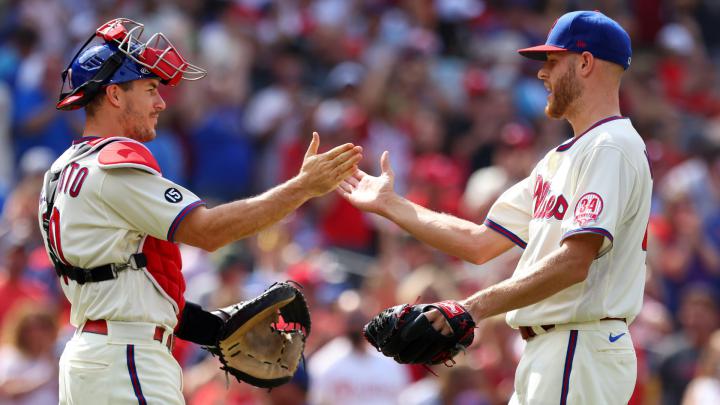 Entering Friday's series opener in Philadelphia, the New York Mets had been in sole possession of first place in the National League (NL) East every day since May 9.
Mets drop two places in three days
They headed home on Sunday sitting third in the division after managing only two hits in a 3-0 loss to the surging Phillies, who have won eight in a row.
Former Met Zack Wheeler went the distance for Philadelphia (59-53), retiring 27 of the 30 batters he faced while striking out 11.
On the day the Phillies honored the late Hall of Famer Roy Halladay, Wheeler became the first Philadelphia pitcher to retire as many as 22 consecutive batters in a start since Halladay's May 29, 2010 perfect game against the Marlins.
The Phillies got solo home runs from Jean Segura, J.T. Realmuto and Bryce Harper for all the scoring they needed against New York starter Taijuan Walker.
As the Phillies expanded their lead with the sweep, the Atlanta Braves (57-55) moved a half-game in front of the Mets (56-55) with a 5-4 win over the Washington Nationals.
Springer, Jays power past Red Sox
George Springer's three-run homer in the eighth inning lifted the Toronto Blue Jays past the Boston Red Sox 9-8, recording their ninth win of an 11-game homestand at Rogers Centre. Boston had led 7-2 after four, knocking out Toronto starter Hyun Jin Ryu, but Vladimir Guerrero Jr.'s 35th home run started the rally before Springer's big blow later finished it.
Brett Phillips' second home run of the game, a grand slam in the eighth, lifted Tampa Bay past the Baltimore Orioles 9-6 as the Rays extended their division lead to four games over the Red Sox.
Brandon Belt tied the game with a two-run homer in the seventh and Tommy La Stella provided the winning margin with an RBI single in the eighth, giving the San Francisco Giants a 5-4 victory over the Milwaukee Brewers to improve their MLB-best record to 71-41.
Hess mess for Marlins
Reliever David Hess served as the "opener" for the Miami Marlins against the Colorado Rockies and saw his ERA nearly double. Hess surrendered three homers in his one inning of work, allowing seven runs as his ERA jumped from 4.32 to 7.64.
Turner flies past Angels
Trea Turner showed off his wheels to his new home crowd at Dodger Stadium, scoring from first base on a grounder that barely reached the outfield.
Sunday's results
Seattle Mariners 2-0 New York Yankees
Chicago White Sox 9-3 Chicago Cubs
Toronto Blue Jays 9-8 Boston Red Sox
Philadelphia Phillies 3-0 New York Mets
Oakland Athletics 6-3 Texas Rangers
Tampa Bay Rays 9-6 Baltimore Orioles
Boston Red Sox 2-1 Toronto Blue Jays
San Francisco Giants 5-4 Milwaukee Brewers
Cleveland Indians 7-5 Detroit Tigers
Cincinnati Reds 3-2 Pittsburgh Pirates
Minnesota Twins 7-5 Houston Astros
Kansas City Royals 6-5 St Louis Cardinals
Atlanta Braves 5-4 Washington Nationals
Colorado Rockies 13-8 Miami Marlins
San Diego Padres 2-0 Arizona Diamondbacks
Los Angeles Dodgers 8-2 Los Angeles Angels
Reds at Indians
The Cincinnati Reds (61-51) have won five in a row and 10 of their last 12 heading into a makeup game from a May 9 rainout at the Cleveland Indians (54-55).