MLB
Smith, Dodgers overcome Mets as Braves regain share of first
Los Angeles Dodgers catcher Will Smith made up for a costly mistake with a 10th-inning homer to beat the New York Mets.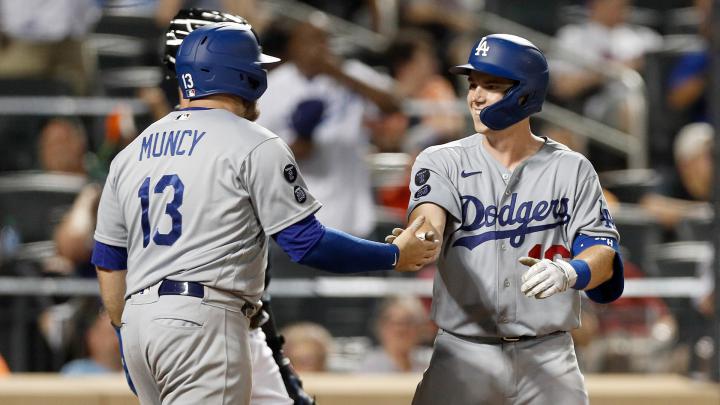 Will Smith played a significant part in the Los Angeles Dodgers blowing a four-run seventh-inning lead Friday, but the catcher made up for it in the end.
Smith's two-run homer in the 10th inning gave the visitors a 6-5 victory over the New York Mets, lifting the Dodgers to their fifth win in six games.
Los Angeles had scratched out a 4-0 edge through the first six innings at Citi Field, scoring runs on a ground-rule double and three sacrifice flies.
But the Mets came to life in the seventh, drawing within a run on RBI singles from Dominic Smith and Jeff McNeil.
A passed ball by Smith allowed Pete Alonso to score the equaliser and that is how the game would remain heading into extra innings.
With Max Muncy on second to start the 10th, Smith homered to left for a 6-4 lead, and that was enough for the Dodgers after Kenley Jansen escaped the bottom of the ninth with one run allowed.
Braves back in first place
The Atlanta Braves waited out a three-hour, 12-minute rain delay before starting their game against the Washington Nationals, and it was well worth it as the visitors moved back into a tie for first place with a 4-2 win. After falling behind 2-0 in the first, Atlanta got solo home runs from Travis d'Arnaud, Ozzie Albies, Austin Riley and Dansby Swanson to regain a share of the top spot in the National League East with the Philadelphia Phillies.
The Phillies also fell victim to the longball in a 6-1 home defeat to Cincinnati as the Reds got a three-run homer from Joey Votto, a two-run drive by Eugenio Suarez and a solo shot from Nick Castellanos.
Rookie Jarred Kelenic drew a bases-loaded walk from Brad Hand in the bottom of the ninth to score the winning run as the Seattle Mariners downed the Toronto Blue Jays 3-2 – Seattle's 10th successive game decided by two runs or fewer.
Zack Greinke dominated the Los Angeles Angels, allowing two hits in seven shutout innings as the Houston Astros won 4-1 thanks to a Kyle Tucker grand slam in the fourth inning.
Jack Flaherty was brilliant for the St Louis Cardinals in his first start since May 31 after recovering from a strained oblique muscle. The right-hander allowed just two hits and did not walk a batter while striking out five in a 6-0 defeat of the Kansas City Royals.
Daulton Varsho's walk-off homer in the ninth gave the Arizona Diamondbacks a 3-2 win over the San Diego Padres.
Cubs implode against Marlins
The Chicago Cubs needed three pitchers to get through an ugly 11-run second inning in a 14-10 loss to the Miami Marlins. Reliever Dan Winkler had the worst of it, facing seven batters and failing to retire any of them as he walked a batter, hit two others, and allowed four hits including a three-run homer by Alex Jackson.
Run, Kevin, run!
The Tampa Bay Rays hit three balls over the fence in Minnesota on Friday, but Kevin Kiermaier provided the most exciting home run of the night in a 10-4 defeat of the Twins.
MLB Friday's results
Cleveland Indians 7-4 Detroit Tigers
Cincinnati Reds 6-1 Philadelphia Phillies
Boston Red Sox 8-1 Baltimore Orioles
Los Angeles Dodgers 6-5 New York Mets
Miami Marlins 14-10 Chicago Cubs
Texas Rangers 8-6 Oakland Athletics
St Louis Cardinals 6-0 Kansas City Royals
Tampa Bay Rays 10-4 Minnesota Twins
Houston Astros 4-1 Los Angeles Angels
Arizona Diamondbacks 3-2 San Diego Padres
San Francisco Giants 5-4 Colorado Rockies
Seattle Mariners 3-2 Toronto Blue Jays
Atlanta Braves 4-2 Washington Nationals
Milwauke Brewers-Pittsburgh Pirates (postponed)

Orioles at Red Sox
Two years and two days after his last MLB start, seven-time All-Star Chris Sale will return from elbow surgery to start for the Boston Red Sox (67-51) against the Baltimore Orioles (38-76) at Fenway Park.