Bayern Munich put a price on Robert Lewandowski
According to Sky Sports, Robert Lewandowski has asked to leave Bayern Munich with Real Madrid among the possible suitors for the Poland striker.
In a summer where there was expected to be little movement in a transfer market conditioned by the financial constraints of the coronavirus pandemic, Leo Messi and Sergio Ramos have moved to PSG and the Premier League has flexed its financial muscle with big-money moves for Jack Grealish and Jadon Sancho and now Bayern Munich may be about to follow suit with the news that Robert Lewandowski is seeking a change of scenery.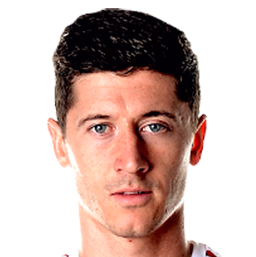 The 32-year-old Poland striker is happy at the Allianz Arena but has his heart set on a new challenge before he turns 35 and Bayern are aware they may have to acquiesce to desire to try his luck in another league after a decade in the Bundesliga. And the Bavarian giants are keen to make sure they cash in on a player whose contract expires in 2023. As such, Bayern have put a price on any potential move for a player who has banged in 400 goals in 518 appearances in the German top flight: any suitors will have to stump up €115 million to land the forward, according to Sky Sports.
Lewandowski a long-term Real Madrid target
Lewandowski and Bayern are on extremely good terms but Sky reports that the striker is becoming frustrated with the club's reticence over selling him. Lewandowski scored a staggering 56 goals across all competitions last season, beating Gerd Müller's long-standing record for Bundesliga goals in a single season at the same time, and has been linked with both Chelsea and Real Madrid. A move to Stamford Bridge appears unlikely after the Premier League side splashed out €115m on Romelu Lukaku and while Madrid have long coveted Lewandowski, Florentino Pérez's immediate concern is trying to lure Kylian Mbappé from Paris or Erling Haaland from Dortmund.
Given the state of affairs in the striking department in Europe this summer, it is likely Lewandowski will have to wait until the end of the current season to secure his move. Bayern will prefer to receive a fee for their star striker, who joined on a free from Dortmund in 2014, rather than lose him for nothing in 2023 with little scope of a contract extension being agreed. However, Bayern president Herbert Hainer said the club are not anticipating a medium-term future that does not feature Lewandowski leading the line. "He has two years left on his contract and will play them, definitively, at Bayern Munich."