MLB
Braves' Fried tosses first complete-game shutout; Royals make history
Max Fried had a game to remember for the Atlanta Braves, while the Kansas City Royals achieved a franchise first, hitting five solo home runs in a game.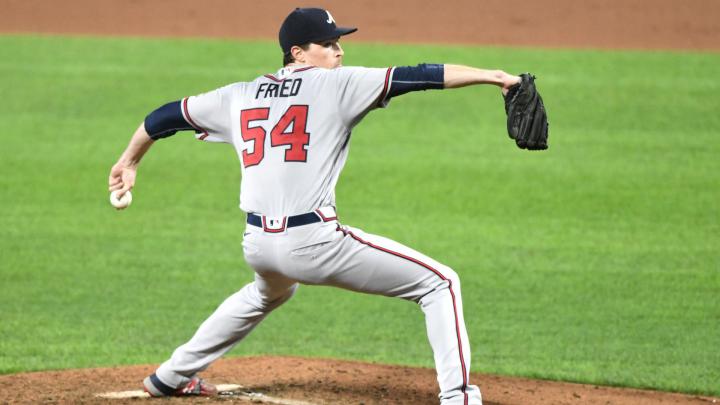 Max Fried dominated on the mound, producing his first career complete-game shutout as the Atlanta Braves blanked the lowly Baltimore Orioles 3-0 in MLB.
Fried was the star of the show on Friday, allowing four hits in his first nine-inning complete game to fuel the Braves, who matched a modern-era, single-season franchise record following their 11th consecutive road victory.
The Braves pitcher needed just 90 pitches in the Maddux – which describes a pitcher tossing a complete-game shutout in fewer than 100 pitches, with Shelby Miller (94 pitches in 2015) the last Atlanta pitcher to achieve the feat.
According to Stats Perform, only three Braves pitchers have tossed a nine-inning shutout on 90 pitches or fewer since 1988 – Greg Maddux (five times), Tom Glavine and Fried (both once).
Travis d'Arnaud launched a two-run homer, while Braves team-mate Jorge Soler also went deep in Baltimore.
Since pitches were first tracked in 1988, only 3 @Braves pitchers have tossed a 9-inning shutout on 90 pitches or fewer:

Greg Maddux: 5 times
Tom Glavine: 1 time
Max Fried: 1 time (tonight)

— Stats By STATS (@StatsBySTATS) August 21, 2021
Royals hit homers for fun
The Kansas City Royals defeated the Chicago Cubs 6-2. Salvador Perez hit two of Kansas City's five home runs in the victory. It was the first time the Royals have ever hit five solo home runs in a game, according to Stats Perform. It was also the first time Kansas City have ever had three homers hit by a catcher in a game.
World Series champions the Los Angeles Dodgers prevailed 3-2 against the New York Mets to extend their winning streak to eight games.
The New York Yankees also stayed hot, winning their season-high eighth straight game by blitzing the Minnesota Twins 10-2. Luke Voit was inspirational again with a homer, four hits and four RBIs.
Bryce Homer crunched a two-run homer as the Philadelphia Phillies snapped a four-game losing streak via a 4-3 win at the San Diego Padres.
Sorry Orioles
Another day and another defeat for the Orioles. Baltimore have now lost by two-plus runs in 16 straight games – the longest streak by any team since the 1876 Cincinnati Red Stockings (18), according to Stats Perform.
The Toronto Blue Jays' hopes of reaching the playoffs took another hit following a 4-1 loss to the Detroit Tigers. Toronto have now lost six of their last seven games.
Anderson lifts White Sox
Tim Anderson was behind the Chicago White Sox's 7-5 victory at the Tampa Bay Rays. He hit a game-tying homer in the ninth inning before delivering the tie-breaking RBI single in the 11th.
Friday's results
Philadelphia Phillies 4-3 San Diego Padres
Kansas City Royals 6-2 Chicago Cubs
Atlanta Braves 3-0 Baltimore Orioles
New York Yankees 10-2 Minnesota Twins
Detroit Tigers 4-1 Toronto Blue Jays
Cleveland Indians 9-1 Los Angeles Angels
Chicago White Sox 7-5 Tampa Bay Rays
Cincinnati Reds 5-3 Miami Marlins
Boston Red Sox 6-0 Texas Rangers
Houston Astros 12-3 Seattle Mariners
Washington Nationals 4-1 Milwaukee Brewers
Pittsburgh Pirates 4-0 St Louis Cardinals
Colorado Rockies 9-4 Arizona Diamondbacks
Oakland Athletics 4-1 San Francisco Giants
Los Angeles Dodgers 3-2 New York Mets
Giants at Athletics
The Giants (78-44) and Athletics (70-53) will continue their battle in Oakland on Saturday, with Kevin Gausman and Sean Manaea the respective starters.