Coronavirus US: when can children under the age of 12 get vaccinated?
Researchers have released some early findings about how a covid-19 vaccine may be used in younger children.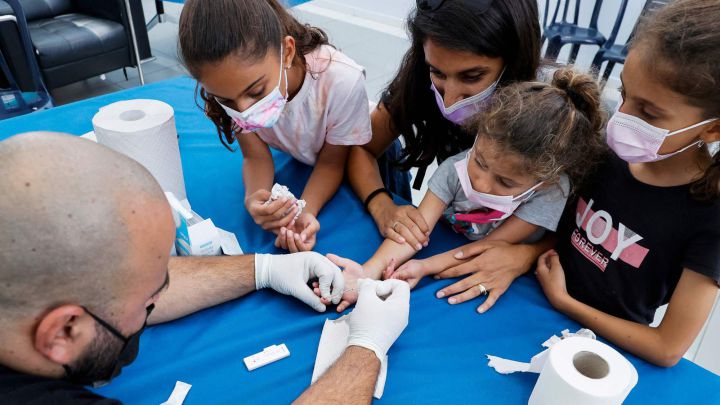 Many parents across the US are eager to know when the covid-19 vaccine will be available for children under 12. Scientists are currently working on how to figure out how one of the covid-19 vaccines currently available for adults could be given to this age group, which accounts for approximately 50 million Americans.
What we know from the vaccine studies
Moderna and Pfizer are both running large trials to study the effectiveness and safety of using their covid-19 mRNA vaccines for children under the age of 12.
Researchers have released some early findings about how a covid-19 vaccine may be used in younger children. In the clinical trial for the Pfizer vaccine, the data collected shows that one third of the adult dose is the optimal range for children under 12 and over 5, says Dr. Flor Muñoz at Texas Children's Hospital, who is in charge of the Pfizer study.
Muñoz and her team have enrolled children as young as 6 months and up to the age of 11. The next phase of the study has begun. At this stage, they randomly assign children either to receive a vaccine or a placebo. Comparing a vaccinated group with a placebo group allows researchers to be confident that any benefit or risk during the study is related to the vaccine.
As part of the study, Children will be involved for two years so researchers can determine how long protection lasts, whether any rare, long-term health issues arise, and whether a booster is needed. Studies of the Pfizer covid-19 vaccine in adults have already shown that such antibodies indicate that someone is well-protected from becoming ill with covid-19.
Moderna children study
Moderna is conducting a similar study of its covid-19 vaccine and children enrolling in the Moderna trial now have a 3 to 1 chance of getting the vaccine as only 25% of the participants are in the placebo part of the trial. "We are testing different doses in the different age groups because younger children may not need the same dose as adults," says Dr. Jacqueline Miller, senior vice president at Moderna.
When could the shots be available?
This depends on how quickly the studies collect the necessary data and ultimately decide when to review the results. At the moment, it is quite likely that the Pfizer vaccine will be the first shot available to children under 12. The data for children under 5 will be submitted shortly thereafter, according to a Pfizer spokesperson.
Moderna says it expects to have enough data by the end of 2021 to seek authorization for a shot that can be given to children who are between the ages of 6 and 11.
Should children get vaccinated?
The risk of severe illness from covid-19 remains quite low for younger children compared to the adult population, however, with so many infections each day in the US, a large number of children are now being exposed to the virus and testing positive. With such high numbers of infections nationally and no protection from a vaccine if they do get infected, more children are at risk of becoming one of the unlucky few who do get seriously ill or face long-term symptoms post-infection.
Dr. Paul Offit, a pediatric vaccine specialist at Children's Hospital of Philadelphia, says a vaccine for younger children can't come quick enough, given the growth in cases.
As youth COVID-19 hospitalizations surge, parents, teachers and government officials are urging schools to mandate masks to protect those who can't get the vaccination https://t.co/1519tcfxUy 4/5

— Reuters (@Reuters) August 19, 2021
Regarding the Delta variant, "This is not last year's covid. This one is worse and our children are the ones that are going to be affected by it the most," Sally Goza, former president of the American Academy of Pediatrics, told CNN.