MLB
Yelich finds form with two homers including grand slam; Dodgers claim nine straight wins
Christian Yelich had not scored one home run in his previous 69 at-bats but delivers two in Saturday's 9-6 Milwaukee Brewers win.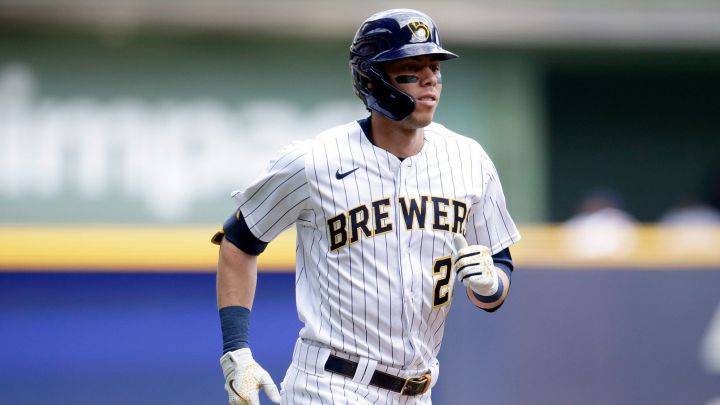 Christian Yelich hit two home runs including a grand slam as the Milwaukee Brewers won 9-6 over the Washington Nationals in the MLB on Saturday. Yelich tallied six RBIs, going three-for-five, while Kolten Wong provided a highlight with a spectacular tag from an in-field pop-out. Left-fielder Yelich was the star, though, having struggled recently, with no home runs from his previous 69 at-bats.
Yelich delivered early with a solo home run at the bottom of the first inning with the Brewers 2-0 down. He also drove in a run in the fifth inning with a bouncing base hit to make it 3-2 before Wong tied it up with an outrageous run to home plate as the Nats fell asleep. With the Brewers 5-4 down at the bottom of the eighth, Yelich provided the knockout punch with his 454-foot grand slam to deep right-field. Yelich has 38 RBI and 66 hits, along with eight homers for the season. The Brewers improve their record to 75-49, firming up their grip on top spot in the National League Central.
Nine in a row for Dodgers
The Los Angeles Dodgers made it nine consecutive wins as new recruits Trea Turner and Max Scherzer begin to really find their groove, recording a 4-3 win over the New York Mets. Turner scored his first home run for the Dodgers since his move from the Washington Nationals last month with a lead-off homer. Scherzer, who was also traded in from the Nats last month, sent down eight strikeouts across his five innings on the hill, allowing only one earned run.
Philadelphia Phillies starting pitcher Aaron Nola was spectacular with 11 strikeouts, retiring the first 18 San Diego Padres' batters, including his brother Austin, before his side lost 4-3 in extras.
LaMonte Wade Jr scored a pinch-hit go-ahead two-run homer in the ninth inning to lead the San Francisco Giants to a 6-5 win over the Oakland Athletics.
The New York Yankees piled on five runs in the fifth inning as they defeated the Minnesota Twins 7-1 with Giancarlo Stanton and Luke Voit both driving in two.
Mariners pitchers mauled by Astros
Starting pitcher Logan Gilbert had a tough shift on the hill for the Seattle Mariners as they were whacked 15-1 by the free-wheeling Houston Astros. The Astros piled on four runs in the third inning and another six in the fifth, as Gilbert was pulled having allowed nine earned runs. Gilbert's replacement, Robert Dugger, did not fare much better, allowing seven hits.
D.J.'s dazzling double play
D.J. Peters produced an amazing double play as the Texas Rangers won 10-1 over the Boston Red Sox. With the Rangers up 2-1 at the bottom of the third inning, Peters pulled off a tough outfield catch from Rafael Devers before a bullet long-range throw to first completed a spectacular double out.
Saturday's results
New York Yankees 7-1 Minnesota Twins
Tampa Bay Rays 8-4 Chicago White Sox
Kansas City Royals 4-2 Chicago Cubs
Toronto Blue Jays 3-0 Detroit Tigers
Milwaukee Brewers 9-6 Washington Nationals
Los Angeles Dodgers 4-3 New York Mets
San Francisco Giants 6-5 Oakland Athletics
Cleveland Indians 5-1 Los Angeles Angels
Houston Astros 15-1 Seattle Mariners
Cincinnati Reds 7-4 Miami Marlins
Atlanta Braves 5-4 Baltimore Orioles
Texas Rangers 10-1 Boston Red Sox
Pittsburgh Pirates 5-4 St Louis Cardinals
Colorado Rockies 5-2 Arizona Diamondbacks
San Diego Padres 4-3 Philadelphia Phillies
Mets at Dodgers
The Dodgers (78-46) will chase 10 straight wins when they take on the Mets (60-63) again in the final game of their four-game series.