MLB
MLB round-up: after 19 losses, the Baltimore Orioles make history
The Baltimore Orioles celebrated an overdue win on Wednesday, while Robbie Ray made Toronto Blue Jays history.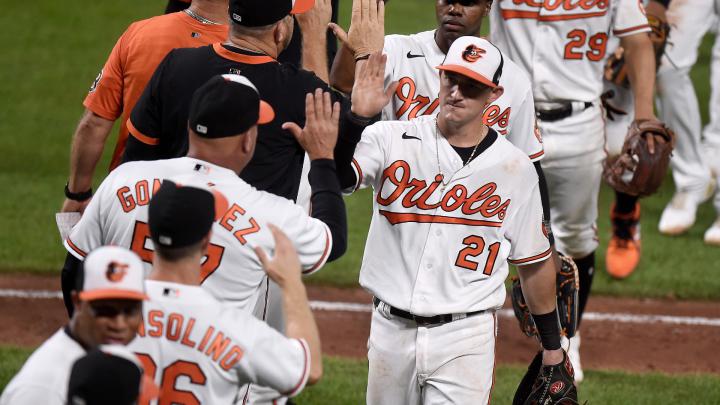 The Baltimore Orioles returned to winning ways, ending a 19-game losing streak by upstaging the Los Angeles Angels 10-6.
Orioles break losing streak in style
Baltimore celebrated an overdue victory after rallying past Shohei Ohtani and the Angels in MLB action on Wednesday, a five-run seventh inning fuelling the hosts.
Trailing 6-2 in the fourth inning and 6-4 in the sixth, the Orioles – who were two losses short of the American League (AL) record for the longest skid, an unwanted record set themselves following a 0-12 start in 1988 – came from behind.
The Orioles snapped their 19-game losing streak with a 10-6 win over the Angels.

It's the longest losing streak in MLB history to end with the team scoring 10+ runs.

— Stats By STATS (@StatsBySTATS) August 26, 2021
DJ Stewart, Cedric Mullins and Anthony Santander homered for the Orioles, whose losing streak became the longest in MLB history to end with the team scoring 10-plus runs, according to Stats Perform.
Two-way Angels star lasted 5.0 innings, allowing five hits, four runs and three homers in Baltimore.
Ray keys Jays victory
The playoff-chasing Toronto Blue Jays needed a win and they got it thanks to Robbie Ray, who inspired their 3-1 victory at home to the AL Central-leading Chicago White Sox. Blue Jays starter Ray matched his career high by striking out 14 batters over seven innings. Ray allowed five hits and just one run as he became the first ever Toronto left-handed pitcher to record 14 strikeouts in a game.
Francisco Mejia's three-run homer in the ninth inning lifted the Tampa Bay Rays past the Philadelphia Phillies 7-4. The Phillies lost but it was still a memorable day for Zack Wheeler, who became the first Philadelphia pitcher to reach 200 strikeouts in 26 games or fewer.
Brandon Woodruff dominated, striking out 10 in six shut-out innings in the Milwaukee Brewers' 4-1 win against the Cincinnati Reds.
Rockies mask Marquez's struggles
The Colorado Rockies split a doubleheader with the Chicago Cubs after winning 13-10 in 10 innings after dropping the opener 5-2. However, Rockies starter German Marquez failed to impress, giving up five runs on seven hits in three innings. He has 10.13 ERA over 13.2 innings in his last three starts.
Sano's moonshot!
The Minnesota Twins topped the Boston Red Sox 9-6 with help from Miguel Sano, who delivered a 495-foot homer in the third inning – the longest in MLB this season.
Wednesday's results
St Louis Cardinals 3-2 Detroit Tigers
Houston Astros 6-5 Kansas City Royals
Chicago Cubs 5-2 Colorado Rockies
Colorado Rockies 13-10 Chicago Cubs
Baltimore Orioles 10-6 Los Angeles Angels
Arizona Diamondbacks 5-2 Pittsburgh Pirates
Tampa Bay Rays 7-4 Philadelphia Phillies
Toronto Blue Jays 3-1 Chicago White Sox
Minnesota Twins 9-6 Boston Red Sox
San Francisco Giants 3-2 New York Mets
Cleveland Indians 7-2 Texas Rangers
Miami Marlins 3-2 Washington Nationals
Milwaukee Brewers 4-1 Cincinnati Reds
Los Angeles Dodgers 5-3 San Diego Padres
Yankees at Athletics
The red-hot New York Yankees (74-52) will put their 11-game winning streak on the line when they visit the Oakland Athletics (70-57) on Thursday. Jameson Taillon is set to start for the Yankees as the A's counter with James Kaprielian.