Giants' Barkley taking comeback "day by day"
Saquon Barkley tore his ACL in Week 2 of last season. Now the New York Giants running back took spoke to reporters after a joint practice with the Patriots.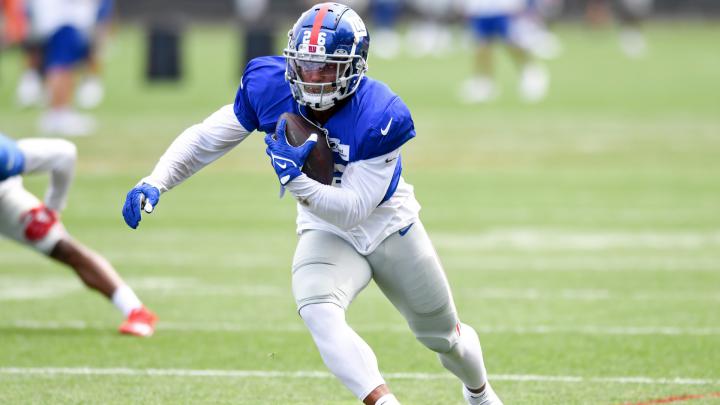 New York Giants running back Saquon Barkley stepped up his recovery from a torn anterior cruciate ligament (ACL) after taking his first full-team reps since the injury.
Barkley appraoching year anniversary of injury

Barkley has been sidelined since sustaining the ACL injury in the Week 2 defeat to the Chicago Bears in the NFL last year.
The 2018 Pro Bowler has been progressing slowly as the Giants prepare for their Week 1 opener against the Denver Broncos on September 12.
Barkley feels "like a little kid" in return to action
Following Thursday's live drills in joint practice with the New England Patriots, Barkley said: "I feel really good right now.
"It feels good being with the team, feels good to get a couple of team reps. It's just fun to be able to play football again, feel like a little kid and just taking it day by day."
The second overall pick in the 2018 NFL Draft had established himself as one of the league's elite dual-threat running backs prior to that setback.
Giants' RB looking to return to rookie season form
In his rookie season, Barkley ranked second for carries (261) and rushing yards (1,307) and was also second for catches among players at his position (91).
That amounted to 15 total touchdowns, trailing only Todd Gurley and Alvin Kamara for running backs.
Year two was slightly slower but Barkley still became the first Giant to pass 1,000 rushing yards in each of his first two seasons and was looking forward to a big 2020 when he went down against the Bears.
"I definitely want to get hit again," Barkley said. "To me, it's not just the hitting, it's just playing football. Even though I only took two reps and a couple of reps in seven-on-seven, those reps are so valuable right now and going to help me in the long run.
Giants to play Denver in Week 1

"That's the next thing, to be completely honest. It's just taking it one day at a time. But we're at the point where I'm allowed to start taking team reps and those steps are going to happen naturally, especially throughout a couple more weeks coming up.
"You know me, as a player I want to go out there and make plays and especially in those situations when it's two minute and it's our team versus their team. Those things are going to come naturally, and I've just got continue to be patient and when I have the opportunities, take advantage of them."