MANCHESTER UNITED
What shirt number will Cristiano take at Manchester United and who wears the No.7?
Cristiano Ronaldo is going back to his roots. The Portuguese star is still idolised in Manchester, 12 years after he left, but will he be handed his iconic No.7 shirt?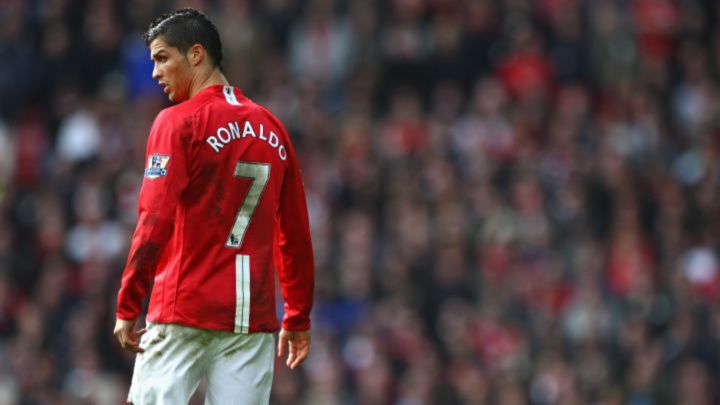 It's strange to think that 12 years have passed since Cristiano Ronaldo left Manchester United. After rewriting the history books at Real Madrid followed by three seasons in Italy with Juventus, he is returning to Old Trafford where to this day he is idolised. The feeling is mutual, Cristiano made that clear during his first re-encounter with United as an adversary. Real Madrid were drawn against United in the Last 16 of the 2012/13 Champions League. In the return leg, with the score at 1-1, Ronaldo came racing in at the back post to put the visitors 1-2 up. It was perhaps the only time when Ronaldo, a player who lives to score goals, didn't celebrate. Instead, head bowed, he sheepishly raised his hands as a sign to the home fans, those who had once worshipped him, as if to say, "I'm sorry that it had to be me". It turned out to be decisive, United were out of the Champions League and Ronaldo had unwillingly dealt the fatal blow.
Idolised at United
But that's football and United fans and Ronaldo know that. Nothing could ever sever the link between them. Which is why there was no way in the world that he was ever going to sign for City. Rio Ferdinand summed it up: "I rang him right away and said, 'What's going on? Tell me you're lying'. Sir Alex Ferguson would have been exactly the same, he would have hated to see Cristiano in a Man City shirt - just like any other person that has been connected for a long time at this football club".
Ronaldo is back at Old Trafford but which squad number will he be assigned? He has worn the number 7 shirt at every club he has played for since 2003 - bar one year. Cristiano was handed the No.7 shirt ahead of the 2003/4 season, his first with the senior side at United and continued to wear until he left in the summer of 2009. When he joined Real Madrid, he couldn't take the No.7 shirt as it was already occupied by Raúl, so he took the No.9 shirt for one season.
Living by numbers
In Ole Gunnar Solskjaer's current United squad, Edinson Cavani wears the iconic No.7 shirt. There are few available squad numbers for Cristiano to choose from - none of them up to 11 are available. For the moment, the numbers 12, 15, 24 and 28 are free as are eight numbers up to 40 although he may not fancy a high number. Cristiano wore the No.28 shirt during his debut season for Sporting Clube in 2002/3 so that might be a motive for him to consider taking that number. He could ask Cavani if he would be open to letting him have the No.7 shirt although that in itself would be a scenario seldom seen the in the Premier League. Cavani also likes the number seven - it's the shirt number he wore at Palermo and Napoli but not one which he has worn exclusively - at PSG, he was assigned several different squad numbers - 9, 16 and 17 and so if he is not particularly attached to the No.7 or superstitious about it in any way, but generally speaking, players are usually not allowed to change their squad number during the season even while the transfer market remains open.