NFL
What is a PUP list in the NFL?
With the 2021 NFL regular season around the corner, nouns like "PUP list", which can determine many games' result, are very regularly heard among football fans.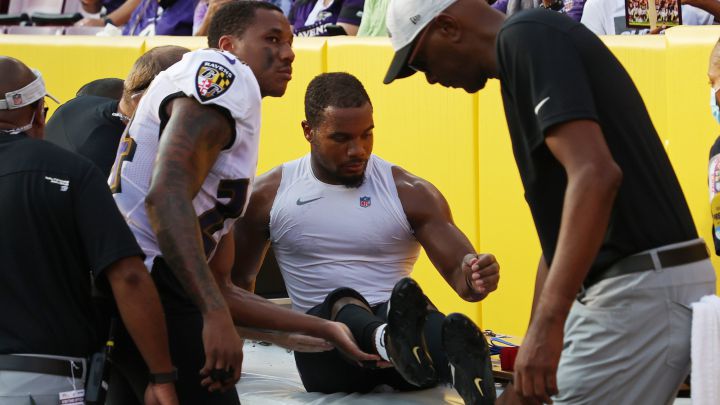 With the 2021 NFL season about to kick off, teams are deciding their final cuts, including those placed on the PUP list.
Despite players tending to play at a lower level during preseason as most are still getting used to the return to action, this doesn't prevent injuries from happening and this year is no different.
"Physically unable to perform"
If you finished preseason injured, you are placed in the "Physically unable to perform" list for regular season. Any player can be placed on this list at any point of the training season, with no penalty.
This means PUP list players will neither play or practice during the first six weeks of season, however, they will be allowed to attend meetings arranged by the team, as well as use the medical and training facilities and equipment.
PUP list players do not count against the 53-man roster, but are eligible against the 90-man roster limit.
Medical staff to determine season future for players
This measure, will not be revoked unless medical staff say so. Once cleared, they can return to their regular spot in the field. After six weeks, if the player is still injured or not completely able to play, they will be taken out from the PUP list and placed on injured reserve.
During the regular season PUP list, things work a bit differently. After the regular six weeks stop, teams will have five more weeks to decide if the player is able to train or not. In case the player hasn't started training during this period of time or isn't activated to the 53-man roster within the first 21 days, the player will have to stay in the PUP list for the rest of the season.
Players reportedly starting the 2021 NFL regular season in PUP list
Michael Thomas (New Orleans Saints)
Saints wide receiver Michael Thomas reportedly is expected to miss at least the first six weeks of regular season, following a foot surgery in June, that calls for a four-month recovery.
Saints' WR Michael Thomas, who underwent off-season foot surgery, is expected to land on PUP, which will sideline him the first six weeks, per sources. Being that the Saints have an early bye, placing Thomas on PUP would sideline him for at least the first five games.

— Adam Schefter (@AdamSchefter) August 31, 2021
David Bakhtiari (Green Bay Packers)
National insider for NFL network Ian Ragoport, announced Monday that Packers left tackle Bakhtiari will also be left aside during the start of the season.
Bakhtiari is placed on the PUP list after tearing his ACL in December practice. Despite fans being positive about his return to the field at the start of the 2021 season, they will have to wait a bit to see Bakhtiari back on the field, as he definitely needs more time to heal his injury.
The #Packers are keeping All-Pro LT David Bakhtiari (knee) on the PUP list into the season, source said, meaning he'll miss the first six weeks. Tough blow for Green Bay, but this will allow perhaps the game's best LT the chance to fully heal.

— Ian Rapoport (@RapSheet) August 31, 2021
Stephon Gilmore (New England Patriots)
ESPN senior Adam Schefter reportedly broke the news after Patriots cornerback Stephon Gilmore's agent confirmed the player will start the season in PUP list. This decision was obvious as his torn quad late last season injury is still in rehab.
A statement that didn't catch fans by surprise after not seeing the cornerback in any of the preseason games or practices.
Tarik Cohen (Bears)
Bears RB is officially on PUP List, meaning at least six weeks out of the regular season, as he continues to recover from an October cruciate ligament surgery.
"He's not where he needs to be right now," coach Matt Nagy said Monday. "But he is improving, and the only thing that we can do is keep grinding with that rehab. That's all he can do."