Agüero and Dembélé set to remain on sidelines until November
While there is more optimism with Agüero than with Ousmane, neither player is expected to be fully fit until November.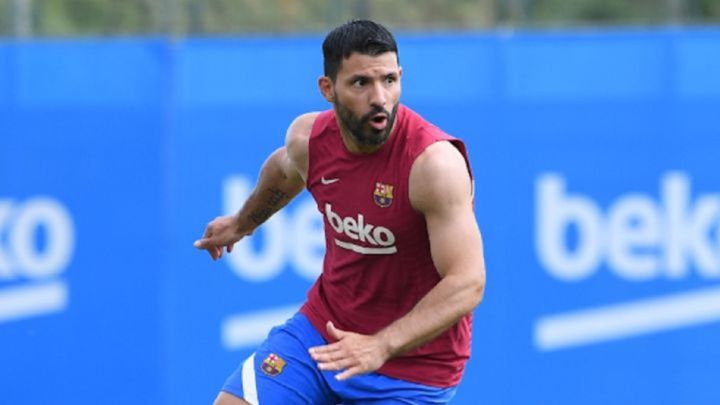 The images of Ousmane Dembélé and Kun Agüero in the gym during a rehabilitation session, released by the club in the last few days, have fuelled the possibility among fans that they may be able to return earlier than expected. While it is true that the recovery is going better than expected, it is also true that a 'miracle' is not expected in either case. AS understands that the roadmap remains unchanged, although at the club they are more optimistic of having Agüero back before Dembélé.
Ronald Koeman has shown throughout his time at Barcelona that he is not a fan of taking risks, and even less so when the protagonists are players with a long and varied history of injuries. So while they are likely to be released in mid-October, especially in the case of Agüero, it will not be until early November, when they will have been with the squad for two weeks, that Koeman will include them in a matchday squad. Looking at the team's upcoming fixtures, their return could come against Alavés at Camp Nou, scheduled for 30 October, or against Dynamo Kyiv in the Champions League, three days later.
Dembéle picked up his latest injury at the end of June during the European Championship and underwent a second operation in Finland on the biceps femoris tendon in his right leg. He is expected to be out for around four months, so if all goes well, he could be back in action in early November.
Agüero expected back before Dembélé
Agüero, who has a calf injury in his right leg since early August, is in the same situation, with an initial prognosis of ten weeks. The Argentine striker is likely to be working with the squad in just over a month's time, but will need a reasonable amount of time to regain muscle tone and to compete at the highest level again.
The Catalan club believe that the former Manchester City striker could reappear a little earlier than Dembélé as the Argentinian striker's injury is much less serious and the risk of a relapse is much lower than that of the French winger.