NFL
Rams coach McVay preparing to face both Dalton and Fields as Bears travel to LA
The Rams and Bears will battle out on Sunday in Los Angeles, where Sean McVay is preparing to face both of Chicago's quarterbacks, Andy Dalton and Justin Fields.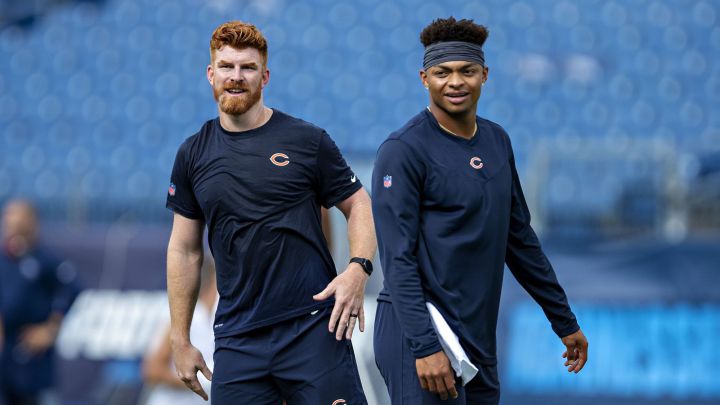 Amid growing pressure from Bears fans who want to see exciting rookie prospect Justin Fields as starting quarterback, Chicago coach Matt Nagy is set to stick with veteran signal caller Andy Dalton for the trip to the LA Rams on Sunday in the opening weekend of the NFL 2021 season.
However, Rams coach Sean McVay expects to see Fields play some part on Sunday and is preparing his team to face both Fields and Dalton at the SoFi Stadium, which will welcome back fans to the stands for the first time since before the pandemic.
McVay on Fields and Dalton

"I think it would be naive for us not to prepare for them to be able to utilize him in some form or fashion," McVay said of Fields, who was the Bears first round pick in the 2021 draft.
"But Andy is a winning quarterback in this league. (He) does a great job. I really have seen a lot of film of Andy, even going back to when Jay Gruden was his (offensive) coordinator at Cincinnati. So, very familiar with what a really good quarterback he is. He does a great job, accurate, anticipation, recognizes the looks defensively, can straighten up protections.
"Andy Dalton's a really good quarterback and he'll be a great challenge. And then you see the ways that Justin (Fields) made a lot of plays going back to his career at Ohio State (and) what he showed in the preseason. So, I think you got to be ready for either or, but it's going to be challenge, for sure."
Bears sticking with Dalton for now

Dalton joined the Bears on a one-year, $10m deal in March on the promise that he would be the team's starting quarterack for the 2021 season. For now, it seems the Bears are prepared to live up to that promise, with Nagy and Bears GM Ryan Pace continuing to insiste that Dalton is first-choice QB.
"We're very confident in [Dalton] and where he's at. So there's no need for us to rush Justin," Pace said ahead of Sunday's game.
"It'd be different if we didn't feel that way. We feel like Andy's in a good spot, too. We're confident in Andy. There's a lot of things with Andy— I know we've talked about it before— but his experience, he's won a lot of games in this league, his decision-making, his intangibles, his leadership, all the things that he's doing, there's so many veteran players that have come up to me and have made comments about Andy Dalton and what he's doing— in practices, in the locker room, in the huddle. All those little things that I think we're gonna see pay off as we get into the season.
"It's more about Andy right now. We're excited about Justin. I'm more excited than anybody. But we're just gonna let this thing play out."
With the immensely impressive Fields hot on his heels, Dalton will need to be on top of his game as things play out to maintain his starting position.
The game between the Rams and Bears gets underway at 8.20pm ET (5.20pm PT) this Sunday, 8 September in Los Angeles.