NFL
Dallas Cowboys at Tampa Bay Buccaneers: NFL season opener, how to watch online, TV and time
The 2021/22 NFL season gets underway on Thursday night as Dallas Cowboys travel to Florida to face reigning champions Tampa Bay Buccaneers with a 08:20 pm (ET) start.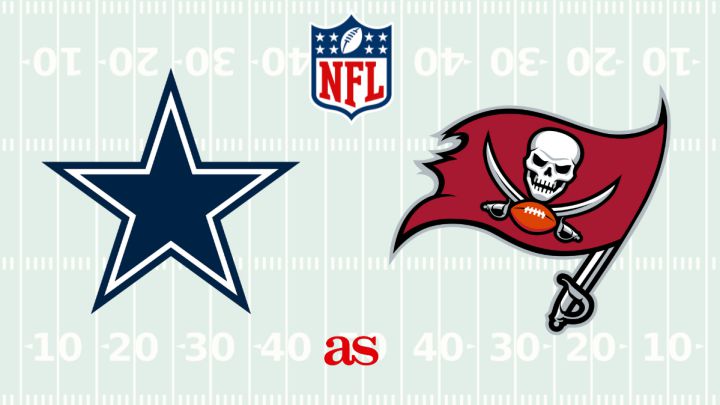 The 2021/22 NFL season is set to commence as Dallas Cowboys face reigning Super Bowl Champions Tampa Bay Buccaneers in the new season opener on Thursday, 9 September. This is game 1 of a new 17-game schedule with the 2022 Super Bowl set to be staged in Los Angeles on 13 February, 2022.
On the 17 game season, NFL Commissioner Roger Goodell stated: "This is a monumental moment in NFL history with of the benefits of each team playing 17 regular-season games is the ability for us to continue to grow our game around the world".
Dallas at Tampa Bay
The Texans are hoping that Dak Prescott will be at his best as the Dallas Cowboys quarterback returns to action in Thursday's NFL season opener with Prescott missing pre-season action and has not seen live game action since suffering a compound fracture and dislocation of his right ankle last October against the New York Giants.
But Cowboys CEO and director of player personnel Stephen Jones said Tuesday that Prescott is "100 per cent ready to go" for the game and he has "total confidence in Dak and how he feels about what he can do for this football team."
Dallas Cowboys made 28 moves during the off-season to complete the 53-player roster limit ahead of Thursday's kick-off game, including severing ties with quarterbacks Garrett Gilbert and Ben DiNucci.
Brady on season opener: "I'd rather play and lose than not play"
The 2021 champions from Tampa Bay are in defiant mood too ahead of the new season opener with veteran Tom Brady looking to improve in his 22nd season and make the Buccaneers the first team in 16 years to win back-to-back titles
"We kind of feel invincible at times, especially playing a really physical sport, but I think one thing about getting injured is we're not invincible," Brady said. "I think you have a different perspective when you come back.
"You're really disappointed when you lose games, but it's more disappointing when you don't get to play in games. I'd rather play and lose than not play at all, as crazy as that sounds. If you're not playing it just means you're at home.
"I remember that was a tough year just sitting, watching, watching all my teammates, and I made a pretty conscious decision I was gonna do everything I could at that point to stay healthy as I could my entire career."
As he prepares to begin his 22nd NFL season, Brady knows he and his team will need to out-play Prescott and the Cowboys to get off to the start they want.
Dallas Cowboys at Tampa Bay Buccaneers: what time does NFL season opener start?
The first game of the 2021/22 NFL season between Dallas Cowboys and Tampa Bay Buccaneers, gets underway at 8:20 p.m. EST, which is 5:30 p.m. PT on 9 September.

Berlin, Paris, Rome: 02:20 (on Friday 10 September).
London: 01:20 (on Friday)
Doha: 03:20 (on Friday)
Tokyo: 09:20 (on Friday)
Moscow: 03:20 (on Friday)
No matter where you are in the world you can check what time the NFL season opener starts where you are.
How to watch Cowboys-Bucs in the US
NBC will be broadcasting live the match-up at Raymond James Stadium between the Cowboys and the Buccaneers, which starts on Thursday at 8:20 p.m. However, coverage will begin at 7 p.m. with "Football Night in America". If you don't have cable, you can watch the game live via NBC's streaming service Peacock.
World-wide Super Bowl LV TV and streaming options
The NFL season is available to watch in most countries around the world, here's a selection:
Mexico: ESPN Latin America, FOX Sports Latin America, Azteca Deportes, Televisa Deportes
UK/Ireland: Sky Sports NFL
Italy: DAZN
Spain: Movistar
Germany/Switzerland: ProSieben
France: L'Equipe
India: Fancode
China: Tencent
Australia: ESPN
New Zealand: ESPN
NFL Gamepass
Outside the US, you can watch the the entire 2021/22 NFL season live via the NFL's Game Pro Pass in a considerable number of territories. Check out the various available plans here.
Dallas at Tampa Bay: live AS English coverage
You'll also be able to follow live text coverage of the NFL season opener right here with AS English. We'll be building up to the game from about an hour ahead of kick-off, before taking you through the action as it unfolds.