NFL 2021
The curious case of Tom Brady
In his 21st NFL season Brady surpassed 4,600 passing yards for the first time since 2015 and finished with over 40 touchdown passes, and all at 43.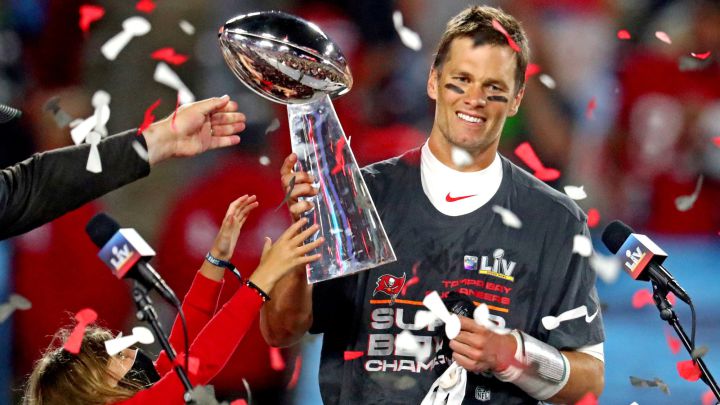 In director David Fincher's film "The Curious Case of Benjamin Button", Brad Pitt plays the role of a man who was born old and wrinkled, but grows younger as the years go by.
The NFL has its own Benjamin Button and his name is Tom Brady.
In his 21st NFL season, and first with the Tampa Bay Buccaneers, Brady surpassed 4,600 passing yards for the first time since 2015 and finished with at least 40 touchdown passes for the first time since 2007, when he led the league with 50.
And he did it at 43 years old!
To make the story even more unlikely, Brady led the Bucs to the Super Bowl and won their seventh championship ring in February. The other six were obtained with the New England Patriots, the team he played with in nine Super Bowls.
What is his favorite ring? "The next one", Brady responds automatically.
Brady vs. Time
There are few athletes, not only in the NFL but in any league or professional sport, who take care of their body like Brady does. In fact, he published a book four years ago in which he reveals some of his secrets.
The "TB12 Method" is a very strict regimen that excludes foods such as gluten, sugar, coffee and alcohol. And it includes some exotic recipes like avocado ice cream.
Appetizing or not, Brady's diet pays off and his hunger is for more NFL titles.
"It's a lot of fun for me. I love training to get in shape and compete. I love the mental aspect of sport. I have a lot of fun doing it. [It brings] a lot of joy to my life", Brady said during the Buccaneers training camp. "I don't think there is any aspect of me that thinks what I did last year means anything. I have to do it this year".
If he does it this year, then Brady will be the first quarterback to win two consecutive Super Bowls since the 2003-2004 seasons, when… wait… Tom Brady did it?!
He could also be the first quarterback to win multiple Super Bowls with two franchises. Only he and Peyton Manning have won at least one NFL title with two teams.
The challenge of repeating
To achieve this, on the field he will have to pass for a few dozen touchdowns and put some hundreds of points on the board, but off the field his mission will be to prevent his teammates from being satisfied with what was done last season, when Tampa Bay became the first team in history to win the Super Bowl in its own stadium.
"The assumption that everything will be exactly like last year, that's what you should not fall into", said Brady. "The reality is that everything is different. Teams will see you a little differently. You are the kind of team that everyone is watching now, so there are different degrees of expectation. There is more external noise, there will be more people who will want to come to the games".
No one in the Bucs organization, not even coach Bruce Arians, is as important as Brady in that regard.
"I think the reality is that you have to focus on what is really important. How to improve? How do you improve from week to week, from day to day? Improve your routine, improve your communication with your teammates [and] with your coaches. Don't let your mind fall into that position to assume that just because you did something in February, you will do it again next February, because that is not the reality of football, it's too competitive", he said. "Even the games we won last year had very tight margins. One or two plays make the difference in every game".
Little by little
Without a regular training camp or preseason (because covid-19 had other plans), Brady needed time to master Arians' vertical offense and create chemistry with his receivers, even when one of them was tight end Rob Gronkowski, who by the way came out of retirement to play with his best friend again.
After back-to-back losses at home to the Rams and Chiefs in late November, not a few doubted that Brady could no longer take them to the Super Bowl, but play the Playoffs with the Bucs, who at the time had the unimpressive record of 7-5.
But Tampa Bay closed the regular season with four wins and in the last two, easy ones against Lions and Falcons, Brady threw eight touchdown passes.
In four playoff games, three of them on the road, he found the end zone 10 other times, against three interceptions, all in the NFC Championship Game in Green Bay.
In Year 2, Brady believes he can do more.
"It was really our first opportunity to play together last year and we have many opportunities to become something that could be very different. We have to improve the things that we did well and, without a doubt, we must build on many things that we did not do very well", he said. "All those things can be improved. I think it's a commitment to a daily process of trying to improve and we have a very competitive group of guys".
Return to Foxborough
There is not a game in the entire 2021 NFL calendar that is more anticipated than the match between Tampa Bay and New England.
When the Buccaneers visit the Patriots in Week 4, Brady will play his first game at Foxborough in a different uniform than that of New England, and it will mark his inevitable reunion with coach Bill Belichick.
The reports and the non-verbal language of the two in their late stages together suggest that Brady and Belichick are not exactly best friends.
There is no bad blood when one has to speak publicly about the other, but it is not his favorite topic either and his answers are politically correct.
As Brady lifted the Vince Lombardi Trophy in Tampa, Belichick was already laying out the plan of attack for this year after a horrible 2020 campaign, in which the Patriots finished 7-9 (their first losing record since 2000, when the coach joined the team) and without a playoff spot.
To the inevitable question of who was more important to the Patriots, Brady or Belichick, the quarterback won the first round and tipped the scales to his side. Obviously the coach was going to do something about it and in the Draft he recruited Mac Jones in the first round, a phenomenon in Alabama who already has been named the starting quarterback for the 2021 season.
Patriots, by the way, is the only team Brady hasn't beaten.
Brady: the records
In 21 years in the NFL, Brady owns a bunch of records, but the books still have plenty of room for a few more.
He needs 1,155 yards to pass Drew Brees (80,358) and rank first in history in passing yards. At the moment, Brady is second at 79,204. With 365 more completions he will also leave Brees' mark (7,142) behind.
He seeks to tie Peyton Manning as the only quarterbacks with at least 4,000 yards in 13 seasons and be the only quarterback with 25 touchdown passes in 16 seasons.
And he requires 40 throws to the end zone to match Aaron Rodgers as the only quarterbacks with three 40-touchdown seasons, which would also tie a mark of Brees (2011-12), the only one who has achieved it in consecutive years.
But his final objective is not these records.
Brady wants more Super Bowls, more Lombardis on the Bucs' offices, more rings in the left hand and more arguments (if needed) so that no one doubts that he - and only he - is the Greatest of All Time.