NFL
NFL free agent Cam Newton speaks about his release from the Patriots
The former NFL MVP broke his silence for the first time since his shock release 10 days ago.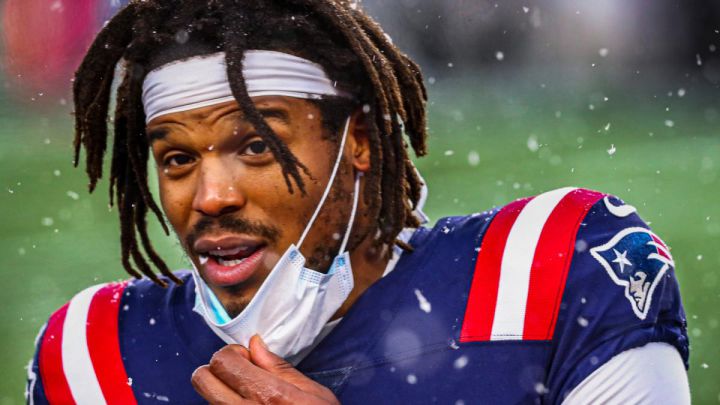 The NFL MVP and New England Patriot Cam Newton sat down with his father to discuss his surprise release for the first time publicly.
It wasn't covid-19
Former NFL MVP and now free-agent quarterback, Cam Newton made it clear in recent statements that he was blindsided by his release from the New England Patriots. Speaking publicly for the first time since the Patriots cut him 10 days ago, Newton shared his thoughts openly, "Did it catch me by surprise being released? Absolutely," Newton said in a video released Friday morning. The former New England Patriot released a live video on Youtube in which he could be seen sitting with his father on the football field of his former high school in Atlanta. Referencing the COVID-19 protocol "misunderstanding" Newton, in contrast to recent speculation did not believe his absence was the reason for release. "During that time, I started seeing signs of change. ...Do I think this would have happened without me being away from the team for five days? Honestly, yes. It was going to happen. Did it help ease the decision? Yes."
No problem with Mac Jones
Newton added he would have "absolutely" agreed to be backup to rookie Mac Jones, however, he did not think Jones would have found such an arrangement agreeable. "Let me be honest with you. If they would have asked me, 'Cam, we're going to give the team to Mac, you're going to be second string; we expect you to be everything and someone to guide him throughout this tenure,' I would have said, 'Absolutely,'" Newton said to his father in the video, "But listen, the truth of the matter is this: He would have been uncomfortable."
Newton said he enjoyed working with Jones while adding, "Mac Jones didn't beat me out. But I would have been a distraction. If they would have gave him the starting role, they knew the perception that it would have had if the success didn't come."
For more from the NFL
The turning point
Newton, who is now 32, dismissed the idea of retirement and then described where and how he thought things changed. "That time with me finding out [about the release] and kind of seeing things different, when I look back at it, I was probably getting two reps to his 10 reps. And that's why it was starting to make sense," Newton said. "Even though I was starting, that doesn't necessarily mean nothing."
"I think that's where they did a good job with kind of disguising it: 'Cam took first-team reps today.' But [media members] didn't know the practice structure. The first-team goes down, the second team goes back, and then the first team comes back, too. And that's when Jones was getting his first-team reps.
Speaking directly to the suspicion that he was released on the grounds of covid-19 protocol violations, Newton explained that he had in fact been travelling to see a doctor for a second opinion on his foot - which he had an operation on after a Lisfranc injury in 2019. "This had nothing to do with no vaccination. They gave me clearance to go. I'm owed a second opinion. This was the last time I felt that I was going to have an opportunity to get a second opinion," Newton stated. "Not to say the personnel with the Patriots wasn't coherent to telling me everything I needed to know, but having four eyes on it is better than having two eyes on it, in my opinion. It wasn't that I was having any issues or pain. I just wanted to do a checkup with the person who, in essence, diagnosed me with the Lisfranc. I felt obligated to kind of check back in with a six-month review. "I crossed all the lines, I checked all the boxes, I dotted all my 'I's,' and then to find out that I had to sit out, that's when I kind of felt like bamboozled because 'Y'all told me to go.' It wasn't like, 'Cam, you know if you go, you're taking it on your risk.'"
Cam Newton: "The reason they released me is because indirectly I was going to be a distraction without being the starter. Just my aura. ... That's my gift and my curse. When you bring a Cam Newton to your facility, your franchise, people are interested." pic.twitter.com/SJERljHfAI

— Michael Hurley (@michaelFhurley) September 10, 2021
Would he do it again?
When pressed on whether or not he would repeat his actions knowing the situation, Newton was frank, "Absolutely not" he said. Newton then gave an account of the moment itself saying he arrived at the training center only to be told that the coach, Bill Belichick wanted to see him. "Matt Patricia - the Patriots Senior Football Advisor - was there, Bill was there, and we greeted each other and just started talking," Newton said. "At that time they told me they were going to give the reins to Mac. I was like, 'Cool.' It didn't dawn on me, 'Y'all releasing me?' I was confused. We all were shocked. It was all uncomfortable for everybody.
"... The reason why they released me is because, indirectly, I was going to be a distraction, without being a starter. Just my aura. That's my gift and my curse. When you bring Cam Newton into your facility [and] your franchise, people are interested by mere fact of 'Who is he? Why does he wear his hair? Why does he talk? Why does he act? Why does he perform?' All these questions."