REAL MADRID
Real Madrid would set Mbappé's buy-out at €1,000 million
Real Madrid are preparing for Kylian Mbappé's arrival, and will fend off potential suitors by setting a multi-million euro retention fee, 'ABC' reports.

The transfer window has closed but the Mbappé case continues bubbling away. The striker has entered the final year of his contract and PSG will be exploring every avenue to persuade him to renew. And Real Madrid are hatching their own plans because from 1 January, the player will be able to negotiate with other clubs and potentially sign a contract with the Spanish giants without the need for any type of consent from PSG.
Real Madrid's buy-out deterrent
Madrid's strategy is underway and the financial side of the operation has already been worked out. According to ABC, Mbappé's buy-out clause will be set at 1,000 million euros - a massive retention fee designed to deter state-funded clubs. It is the same technique Madrid have used to shield Benzema and Fede Valverde from other clubs - Cristiano Ronaldo had a similar buy-out during his time at Madrid. The Spanish club are aware of the threat from football nouveau riche and over the past few years, they have protected their promising young stars with prohibitive buy-out clauses. Brahim, who is currently out on loan at AC Milan, has a 750 million euro buy-out; Isco and Asensio, €700M and Ceballos, €500M to give just a handful of examples.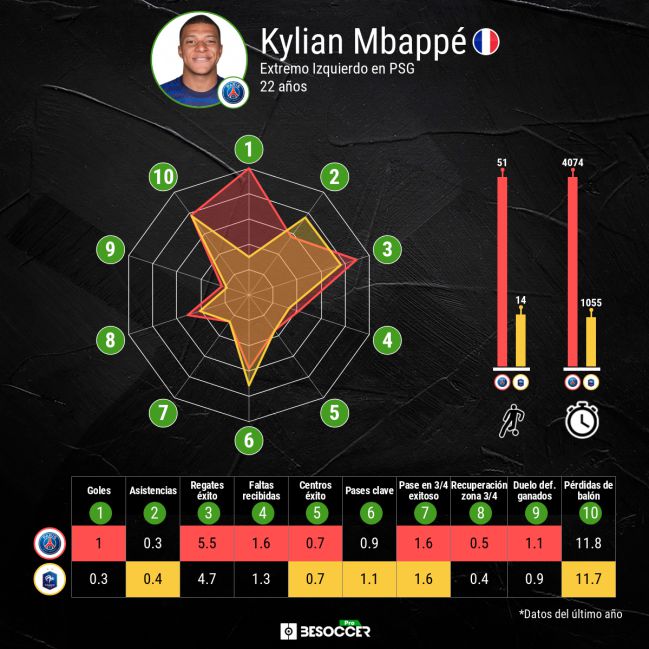 Mbappé will earn, again, according to ABC, 20 million euros net per season - a figure much lower that the 36 million euros which PSG are offering the player in a bid to coax him to sign a new contract. That would put him in the same pay bracket as Messi and Neymar. Madrid don't want to break their own salary structure - that has been one of the factors which has helped the club ride out the economic crisis provoked by the pandemic. And Mbappé has prioritised his dream of playing for Real Madrid over money, an inexhaustible resource for PSG and one which they will use in their attempts to make the player stay. In exchange, he will receive a 30 million euro signing on fee once he puts pen to paper. On the other hand, Mbappé will see his income grow through publicity deals associated with his move to Real Madrid.