NFL
The Chicago NFL team tried out both of their QBs in their loss against the Rams
Although Fields showed maturity by scoring his first league touchdown, Bears coach Nagy insisted on playing both options on the quarterback position.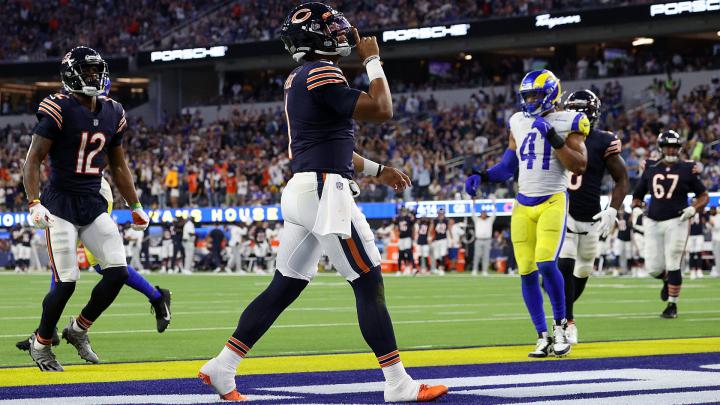 Chicago Bears played with two of their lineup quarterbacks in their season-opening loss to the Los Angeles Rams. Still, it was the only Justin Fields who scored a touchdown in a game that will increase calls to start him over Andy Dalton.
Dalton was unable to avoid the upcoming snaps as the Bears were snubbed 34-14 by the LA Rams on Sunday, throwing for 206 yards and an interception.
Nonetheless, Bears fans saw an encouraging peek of their future as Justin Fields scutter in for a three-yard touchdown run in the third quarter. He also completed a pair of passes for 10 yards.
Head coach Matt Nagy confirmed using both quarterbacks as his original plan, despite him having declared Dalton the starter, but did not offer any explanation as to whether Fields will see more game time in the coming weeks after his exciting debut.
"We had the plan and we stuck to our plan," Nagy said. "We knew where and when we were going to use him and we stuck to that.
"And so, we'll see where that goes and how we do it. But I think we all understand that for us, strategically, we'll see where we go with that — without giving anything away.
"Really, the very first play when he went out there and was able to make a throw — and that was an RPO. So he made a decision to throw the ball off of a look that we had.
"So right there to start the game, I thought that was great. And then he was involved on the sideline. And then when we got down into the red zone at times, we had a couple things in for him that worked and some that didn't work. But when he got down in the red zone, he did some great things there, too.
"So we've just got to keep having him grow and keep staying positive. But he's certainly a weapon."