49ers' Lance 'felt great' playing first competitive game since 2019
San Francisco 49ers quarterback Trey Lance "felt great to be out there again" after finally returning to competitive action against the Detroit Lions.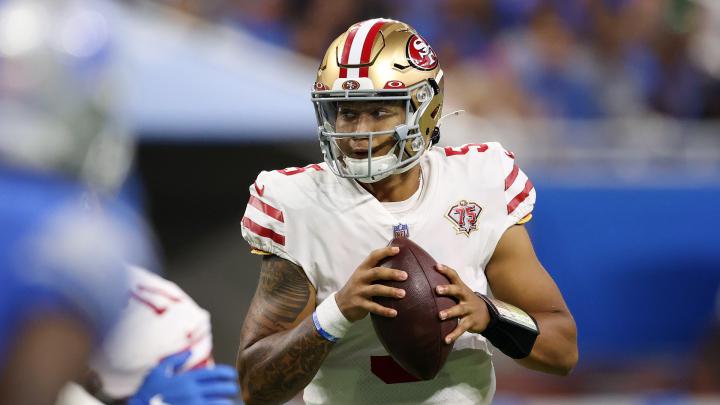 Trey Lance's first competitive game since 2019 was in keeping with his brief but spectacular college career. He threw a touchdown pass and he won.
The rookie third-round pick of the San Francisco 49ers did not contribute much to victory beyond that five-yard throw to Trent Sherfield, Jimmy Garoppolo leading the Niners to a 41-33 victory over the Detroit Lions. Yet he was happy to see the field in meaningful action having seen his 2020 season with North Dakota State wiped out due to the coronavirus pandemic.
Lance: "It just felt great to be out there again"
"I had no idea when or if I was going to play," Lance said in his post-game media conference.
"Obviously I was hoping I would get to get on the field and just help, but at the same time, my role is just to be ready whenever my name is called.
"It just felt great to be out there again, and obviously it feels good to be 1-0."
Niners head coach Kyle Shanahan said of Lance's involvement: "I actually didn't think we would do it on the first drive, but you get into some situations, and that's all play calling is to tell you the truth.
"We'll always have some stuff in for Trey. When your number two quarterback has a skillset that the number one doesn't do in terms of being a threat to run, there's always an option of different plays you can run.
"So we'll have that up at all times while Trey's here. While he's the number two that'll always be an option. But if the one ever gets hurt, then you have to open everything up."
Shanahan confirmed cornerback Jason Verrett is believed to have suffered a torn ACL, his injury preceding a Lions comeback effort from 41-17 down that set up a nervy finish for San Francisco.
"It's crushing. I'm hoping for the best, but it's crushing," said Shanahan, who expects recent cornerback signing Josh Norman to be ready for Week 2 against the Philadelphia Eagles but also confirmed he had spoken with Richard Sherman and that bringing him back is a possibility.