Champions League
Who are the all-time top scorers in the Champions League?
No surprise which two players lead the ranking. Cristiano Ronaldo and Lionel Messi are streets ahead. Benzema and Lewandowski battle for third.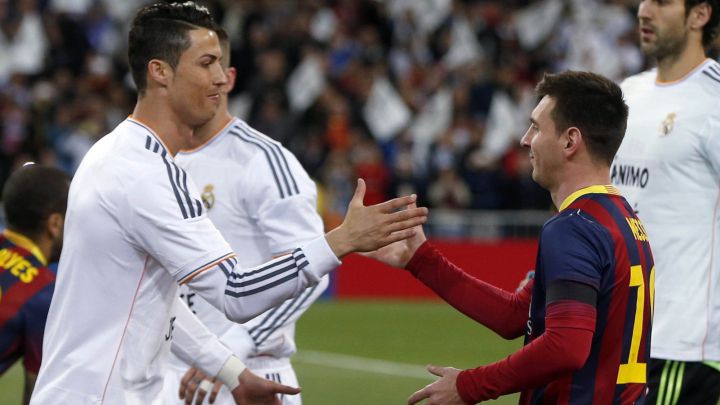 The record for scoring the most goals in Europe's top club competition, the Champions League, has changed hands several times during the last 15 years. But before that, it had been held by one player for just over 41 years. Alfredo Di Stéfano scored 49 goals in 58 games in the old European Cup, netting his last one in his penultimate game in the tournament, against Zurich in May 1964. It was eventually equalled and surpassed by another Real Madrid player, Raúl González, who made the record his own in September 2005. By that time, the competition had turned into the Champions League; he reached a half century of goals after finding the net in the group stage against Olympiacos.
Messi overtakes Raúl
By the time of what would be his final season in Europe, Raúl's Champions League tally stood at 71 goals and his record was still intact. But not for very much longer. Raúl's last goal in the tournament came against Inter Milan in the return leg of the quarter final in April 2011 in his final season for Schalke 04.
By November 2014, Raúl's grip on the record was already under threat. Leo Messi pulled level with him with a brace in the Matchday 4 group game against Ajax, then became the all-time top scorer in his own right a fortnight after bagging a hat trick against APOEL on Matchday 5.
But breathing right down Messi's neck was Cristiano Ronaldo, who was just three goals behind when Raúl's record fell and just one goal behind by the time of the semi-finals.Since then, the Champions League goals record has almost been like a game of snakes and ladders between the Portuguese star and the Argentinean. Cristiano eventually overtook Messi in September 2015, with a hat trick in the 4-0 win over Shakhtar Donetsk which brought up his 80th goal in the competition. After that, he has steadily pulled away.
Cristiano Ronaldo, the first to three figures
Cristiano became the first player to reach 100 Champions League goals in Real Madrid's 4-2 win over Bayern in April 2017. It would take Messi another 11 months to get to three figures.
As it stands, Cristiano is on 134 goals in the Champions League and Messi is 14 behind on 120 although both are still active and at new clubs - and both involved in this year's edition, so they will doubtless be adding to their personal tallies.
Between the remaining players in the ranking and who are still active, the real battle at the moment is for third place with Bayern's Robert Lewandowski who is on 73 goals and Real Madrid's Karim Benzema on 71. They too are first choice at their respective clubs and looking to go far in this season's Champions League.
Related news
Champions League all-time top goal scorers
134: Cristiano Ronaldo (Manchester United, Real Madrid, Juventus, Manchester United)
120: Lionel Messi (Barcelona, PSG)
73: Robert Lewandowski (Borussia Dortmund, Bayern Munich)
71: Raúl González* (Real Madrid, Schalke 04)
71: Karim Benzema (Olympique Lyon, Real Madrid)
56: Ruud van Nistelrooy* (PSV Eindhoven, Manchester United, Real Madrid)
50: Thierry Henry* (Monaco, Arsenal, Barcelona)
48: Zlatan Ibrahimovic (Ajax, Juventus, Inter Milan, Barcelona, AC Milan, PSG, Manchester United)
48: Thomas Müller (Bayern Munich)
48: Andriy Shevchenko* (Dynamo Kiev, AC Milan, Chelsea)
47 Eusébio* (Benfica)
46: Filippo Inzaghi* (Juventus, AC Milan)
44 Alessandro Del Piero* (Juventus)
44 Didier Drogba* (Olympique Marseille, Chelsea, Galatasaray)
*No longer active
All figures as of 13 September 2021