What does a mild covid-19 breakthrough case feel like after being vaccinated?
There is a small chance that fully vaccinated Americans can get infected by the coronavirus, but how serious are these breakthrough cases typically?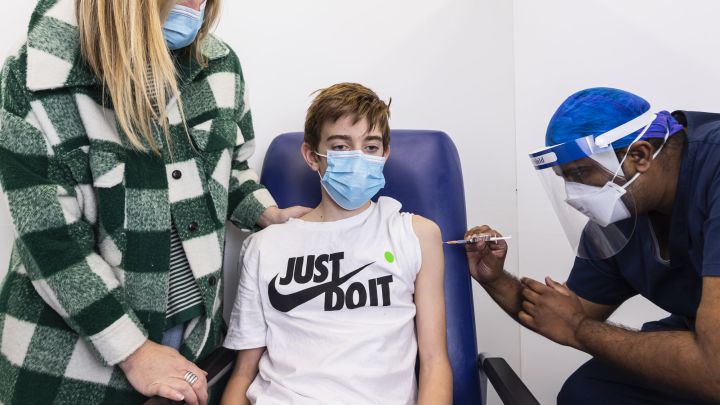 Across the United States more than 210 million people have received at least one dose of a covid-19 vaccine, while nearly 180 million are now fully vaccinated against the coronavirus.
The vaccination effort will save hundreds of thousands of lives over the winter months and will be particularly important as the US battles with the more contagious Delta variant. However the vaccines are not 100% effective (roughly 90% effective at preventing infection) meaning that we are starting to see some breakthrough cases.
What are typical symptoms of a covid-19 breakthrough infection?
Data from the Centers for Disease Control and Prevention shows that less than 0.01% of those who have been fully vaccinated have died or even required hospitalisation as a result of covid-19. Across the country, areas with the lowest vaccination rates tend to have the highest hospitalisation rates.
But the CDC does acknowledge that breakthrough infections are a reality, although the symptoms are much more likely to be mild. There are no covid-19 symptoms that are particularly linked with breakthrough cases and fully vaccinated people who catch covid-19 are far more likely to get no symptoms at all.
The CDC states: "Even when fully vaccinated people develop symptoms, they tend to be less severe symptoms than in unvaccinated people. This means they are much less likely to be hospitalized or die than people who are not vaccinated."
However it should be noted that people who get a breakthrough infection will still be contagious, so they should following the self-isolation guidance in their local area to prevent the risk of further spread.
Thread of @dleonhardt's points from Sunday's show. First: "I think a lot of vaccinated people have come to overestimate the odds that they're going to get a breakthrough infection, let alone that they are going to get very sick. If they DO get one, odds are it will be mild." pic.twitter.com/IkUgevfgl3

— Brian Stelter (@brianstelter) September 13, 2021
How frequent are breakthrough infections?
No one was under any illusions that breakthrough infections would not happen, particularly as the US was able to open up shops, restaurants and workplaces and remove masking mandates in indoor environments. They are still considered extremely rare but new, more infectious variants have made them slightly more common.
Data gathered in Washington state recorded 21,757 vaccine breakthrough cases between 17 January and 21 August 2021. This number represents less than 0.5% of fully vaccinated Washingtonians.
In future there will likely be specific booster shots to address the danger posed by potential new variants, but already there is a drive to get additional protection for the most vulnerable Americans ahead of the winter months.
On 12 August the Food and Drug Administration approved an additional vaccine dose for immunocompromised Americans, providing a third shot which is hoped to boost their covid-19 immunity. Already, around 1.9 million fully vaccinated people have taken advantage of the programme.