NFL
49ers LB Dre Greenlaw out for 4-6 weeks due to groin injury
San Franciso 49ers linebacker Dre Greenlaw will be out for between 4-6 weeks due to a groin injury.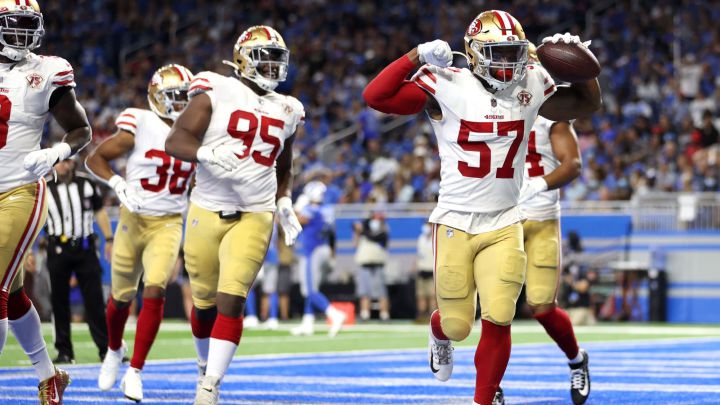 The San Francisco 49ers have been handed a huge blow ahead of their Week 2 fixture against Philadelphia Eagles on Sunday, with news that linebacker Dre Greenlaw is set for a spell on the sidelines due to a groin injury.
According to the report by Matt Barrows of The Athletic, the University of Arkansas graduate will be out for four to six weeks. Azeez Al-Shaair is expected to take Greenlaw's place, while Demetrius Flannigan-Fowles will play SAM linebacker on base downs.
"LB Dre Greenlaw is having a procedure to repair a groin injury, according to multiple sources. It is not believed to be season ending," tweeted Barrows, while other reports have claimed that Greenlaw could be out for up to eight weeks.
Greenlaw key to 49ers week 1 win
Drafted in as a fifth-round pick in the 2019 Draft, Greenlaw was key to the 49ers defeating the Detroit Lions in the first week of the 2021 season. The linebacker recorded four tackles and one pick six during the second quarter, intercepting a pass from Lions QB Jared Goff.
While he allowed four completions, he did for an average of just 4.2 yards per target with a passer rating of 44.6, the lowest on the 49ers team Week 1.
With Greenlaw out, the 49ers signed LB Curtis Bolton on Tuesday.
49ers practice report
The Niners' defensive line practiced on a limited basis on Thursday as a precaution. Defensive end Arik Arsmtead (abductor), Dee Ford (ankle) and Javon Kinlaw (ankle) had limited participation, while Emmanuel Moseley missed practice due to a knee injury.