How have US officials responded to the drone strike in Afghanistan that killed 10 people?
The Pentagon has admitted that the Kabul attack did not kill any ISIS members, as previously claimed, and a tragic error saw an Afghan aid worker targeted instead.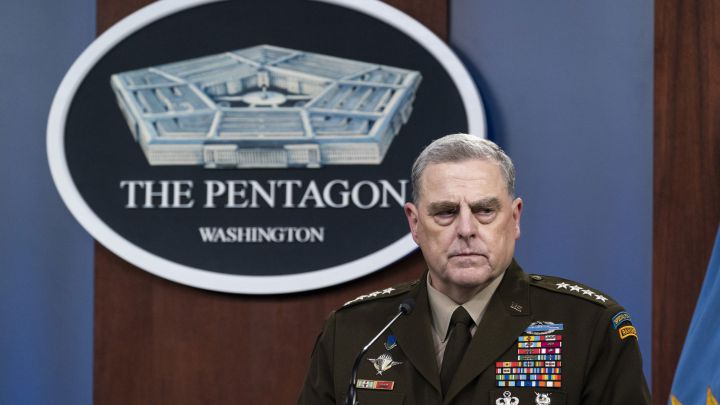 On Friday the Pentagon issued a statement which retracted previous claims about the US military drone strike on Kabul last month, admitting that the attack had killed ten civilians, rather than the Islamic State terrorists as previously claims.
Marine General Frank McKenzie, head of U.S. Central Command, told a Pentagon press conference: "The strike was a tragic mistake."
The strike had targeted a white Toyota Carolla sedan which military reconnaissance had suggested was being used to transport bomb-making materials near to Kabul airport. Instead, it was being used by an Afghan aid worker named Zemerai Ahmadi who had ties to US-based aid groups.
McKenzie insisted that the attack had been carried out in an "earnest belief" and with "reasonable certainty" that the target posed an imminent threat. Here's how that tragic story has unfolded...
Pentagon on Kabul drone strike: "We now know that there was no connection between Mr. Ahmadi and ISIS-Khorasan, that his activities on that day were completely harmless and not at all related to [any] imminent threat." Those killed were "innocent victims." https://t.co/JWW5IrYlwY pic.twitter.com/ZIMyZ7cg63

— Kenneth Roth (@KenRoth) September 17, 2021
Officials initially claimed the strike was "righteous"
The drone strike occurred on 29 August and on 1 September General Mark A. Milley, chairman of the Joint Chiefs of Staff, issued a strong defence of the military's course of action. He insisted that the "righteous" strike had killed at least one ISIS member and was done in response to information from a "variety of means."
He added: "We monitored that through various means and all of the engagement criteria were being met. We went through the same level of rigor that we've done for years, and we took a strike."
Tragically, however, we now know that the information gathered in preparation was critically flawed and the victims had no link to any terrorist groups. In the aftermath of the attack the New York Times published an extensive video report studying footage similar to that used by the military and were able to conclude that the strike may have killed the wrong person.
Military forced into public retreat
The second stage of the official response came on Friday when the Pentagon confirmed that the attack had targeted an innocent man; one of ten Afghans to have been killed in the blast, including seven children.
In a statement released after General McKenzie's press conference, General Milley confirmed that "after deeper post-strike analysis, our conclusion is that innocent civilians were killed."
He continued: "This is a horrible tragedy of war and it's heart-wrenching and we are committed to being fully transparent about this incident."
Further details about the decision-making process were then made public and it emerged that the vehicle was first placed under suspicion due to a visit to a compound believed to have been used by ISIS. In total the vehicle had been tracked by US drone operatives for 48 hours and they felt that they had to take action before the car could reach the airport; the imagined target.
"Clearly our intelligence was wrong on this particular white Toyota Corolla," McKenzie said.
Demand for thorough investigation and compensation for victims
The next stage of the official response to events in Kabul will be to reconcile how such a disaster took place. The military were under immense pressure to maintain security following the suicide bombing just days earlier that killed 182 people at Kabul airport, but such a catastrophic failing will require a thorough inquest.
Defense Secretary Lloyd J. Austin III has ordered a review into both the drone strike and the military's handling of the aftermath, to establish "the degree to which strike authorities, procedures and processes need to be altered in the future."
DoD today admitted it killed 10 innocent civilians--incl. an aid worker trying to supply clean water & 7 children--in an "over-the-horizon" strike that the Biden Admin originally said killed ISIS-K terrorists. Is Biden going to hold anyone accountable? https://t.co/KLcXWJLl19

— Senator Bill Hagerty (@SenatorHagerty) September 17, 2021
The matter of victim compensation will also be central to the ongoing response to the attack. NPR have reported that Emal Ahamdi, whose 3-year-old daughter Malika and brother Zemerai were killed in the strike, is demanding a thorough investigation and financial compensation for the unimaginable trauma suffered.
Speaking last Friday, General McKenzie confirmed that the Pentagon "recognise the obligation" to work with families to provide reparation payments for those who had their lives torn apart by the unjustified attack.