Dolphins QB Tagovailoa "day-to-day" after Sunday's rib injury
The Miami Dolphins lost their quarterback to a rib injury during their Sunday loss to the Buffalo Bills, but they might get him back for their Week 3 game.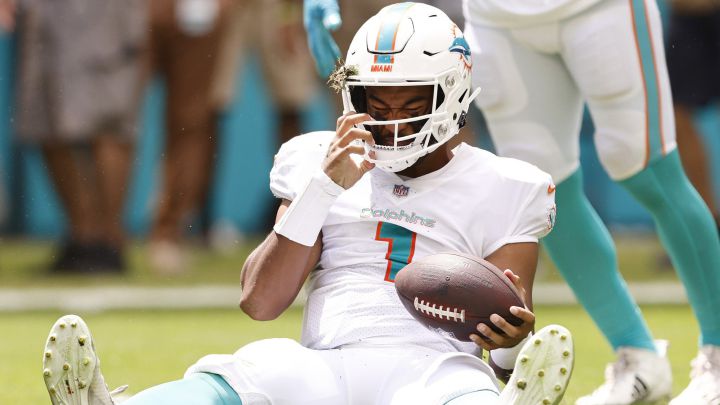 Miami head coach Brian Flores said they are calling their quarterback Tua Tagovailoa "day-to-day" for the moment, as they are still running tests on him. Flores said the quarterback was in a lot of pain after the injury on Sunday, and was still experiencing some discomfort on Monday.
Flores mentioned Tagovailoa's toughness, saying that he tried to get back into the game on Sunday following the hit to his ribs even though he was suffering from a lot of pain. The coach said the quarterback might prepare for the next game by practicing with a flak jacket.
No major issues for Tagovailoa's ribs
NFL Network reporter Tom Pelissero says the quarterback underwent some further tests on his bruised ribs but they seemed not to indicate major issues. He says x-rays of the area have come back negative, so Tagovailoa's return to the team will now be determined by his pain tolerance and his ability to move on the field.
#Dolphins QB Tua Tagovailoa underwent further tests this morning on his bruised ribs and my understanding is those didn't reveal any major issues. X-rays were negative. So it'll be about pain tolerance and functionality moving forward. #Raiders await Sunday in Las Vegas.

— Tom Pelissero (@TomPelissero) September 20, 2021
Tagovailoa was carted off the game they lost 35-0 to the Bills after being hit by Bills defensive end AJ Epenesa. Jacoby Brissett called signals for the rest of the game, with 24-of-40 passes for 169 yards with an interception.
WR Fuller to rejoin Dolphins
In the face of the uncertainty of Tagovailoa's status, the Dolphins will at least have part of their offense back in the game. Wide receiver Will Fuller has returned to the team and is likely to play in Sunday's game against the Las Vegas Raiders.
Fuller missed Week 2's game, citing personal issues. He was set to debut with the Dolphins after he finished serving out his six-game suspension for violating NFL policy on performance-enhancing substances.
The Miami Dolphins head to Allegiant Stadium to play against host Las Vegas Raiders on Sunday, Sept. 26 at 4:05 p.m. ET.