Browns WR Landry on IR with sprained MCL
Jarvis Landry has been placed on the Cleveland Browns injured reserve list after spraining his MCL in the Browns win over the Houston Texans on Sunday.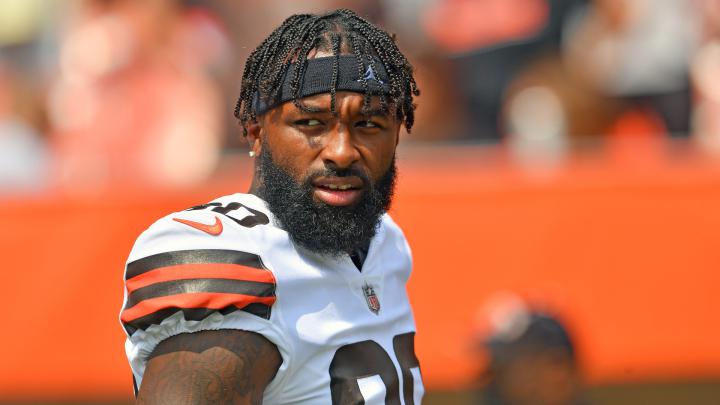 The Cleveland Browns have placed wide receiver Jarvis Landry on injured reserve because of a knee injury.
Landry hurt early in Week 2
Landry suffered a sprained medial collateral ligament in the first quarter of the Browns' 31-21 win over the Houston Texans on Sunday.
Having been placed on IR, Landry now must miss at least the next three games before being allowed to return to action.
That rules him out of Sunday's home game with the Chicago Bears and the trips to face the Minnesota Vikings and Los Angeles Chargers.
Every Time I put this brace on somebody gon have to pay for it in the near future  #Offline

— Jarvis Juice Landry (@God_Son80) September 20, 2021
Cleveland thin at WR
And, with Odell Beckham still yet to make his 2021 debut as he recovers from a torn anterior cruciate ligament, the Browns suddenly look thin at the receiver position.
There is reportedly a good chance Beckham will be ready to face the Bears, but Landry's absence means there will be more pressure on Donovan Peoples-Jones, Rashard Higgins and rookie Anthony Schwartz to produce for Cleveland.
Landry caught all five of his targets for 71 yards in the Browns' opening loss to the Kansas City Chiefs before hauling in one pass for nine yards against the Texans.
Higgins and Peoples-Jones to the rescue?
He finished last season with 72 catches for 840 yards and three touchdowns.
The Browns can afford to have faith in Higgins, who in 2020 was third among wide receivers in burn percentage. Higgins won his match-up with a defender on a play where he was targeted 78.4 per cent of the time.
Higgins was also seventh with a big-play percentage of 43.3. Peoples-Jones (42.6 per cent) was ninth in that metric and finished the year third with 17.11 burn yards per target, albeit across the small sample size of 20 targets.