Bears rookie QB Fields named starter after Dalton knee injury
Justin Fields will be the Chicago Bears starting quarterback for Sunday's matchup against the Cleveland Browns. Andy Dalton is out on a week-to-week basis.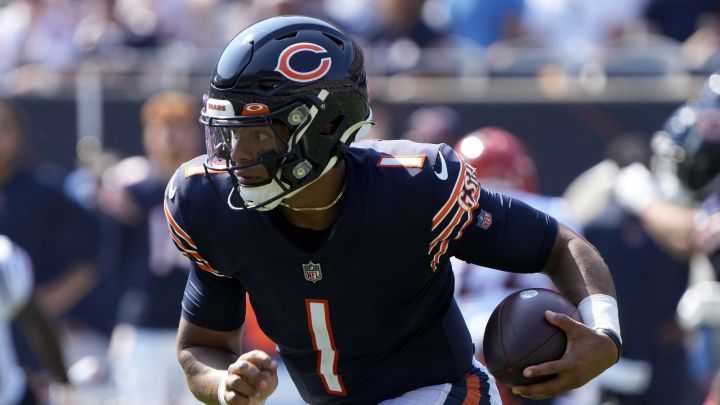 Chicago Bears quarterback Justin Fields will be the fifth rookie quarterback to start an NFL game this season after Andy Dalton was ruled out of Sunday's game against the Cleveland Browns.
Fields to make first NFL start
Fields says he is ready for the opportunity, but he won't change his routine in the lead up to his first NFL start.
"I've been preparing for this moment for a long time," Fields said. "My mindset doesn't change. I'm still going to have to play my football and just prepare the best I can. Like I said before, get a lot of practice reps and study, study, study, and get more comfortable and confident with the plays and stuff like that."
Bears coach Matt Nagy made the announcement Wednesday after the Bear's QB1 was ruled out on a week-to-week basis with a left knee injury.
Fields was a fan favorite to start Week 1

Dalton was injured in last week's game against the Bengals when he scrambled out of the pocket and pulled up after landing awkwardly on his left knee. The former Bengal went to the sideline immediately, but returned shortly before halftime. His return was short lived, coming back for just one series in the second quarter.
Dalton was named the starter in pre-season after joining the NFC North team from Dallas in the offseason, although there was hope around Bears nation that the rookie would be the Week 1 starter.
Coach Nagy has announced that Justin Fields will be our starting QB against the Browns.

— Chicago Bears (@ChicagoBears) September 22, 2021
The former Cowboy is expected to miss the next few weeks, but the Bears are thankful in non contact injury wasn't more serious, Like I said to you the other day, we're glad that it's not his ACL. We're not expecting him to practice today or to have him available this week, so he'll be week-to-week."
Dalton will return to starting role once healthy
Nagy reaffirmed that once Dalton has recovered from his injury he will retake the starting role, but if Fields puts on a show the switch back to the Bears opening day starter may be a bit more difficult, "It's a great opportunity for Justin and for all of us as a staff to be able to take this thing and see where he goes with this,"
Field's played the for more than a half against Cincinnati game passing for 60 yards on 13 attempts, and rushed for another 31 yards. The rookie also completed both of his passes in the season opener against the LA Rams.
Fields and Texans quarterback Davis Mills will both get their first career starts in the NFL, joining Trevor Lawrence, Zach Wilson and Mac Jones.