Odell Beckham Jr. close to return for Cleveland Browns
Odell Beckham Jr. is close to a return for the Cleveland Browns as the wide receiver participated fully in Wednesday's training session.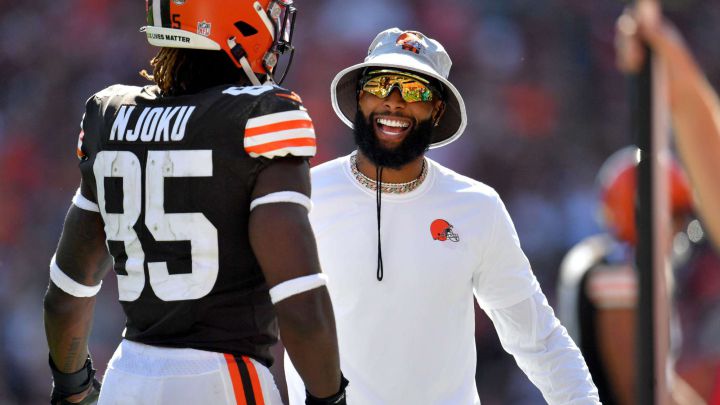 The long awaited return of the Browns' wide receiver is close at hand. How will Odell Beckham Jr. take the field?
Odell Beckham Jr. set to return
In one of the more exciting stories this season, it would appear that Odell Beckham. is set to make his highly anticpated return to the field of play. Beckham Jr. tore his ACL in October of 2020, robbing Cleveland of not only one of their most potent attacking threats, but arguably one of the most lethal wide receivers in the league.
According to ESPN, Beckham — assuming he has no setbacks — will make his 2021 debut against the Chicago Bears. The news comes after reports that he participated fully in Wednesday's training. Prior to his injury Beckham had posted 23 catches for 319 yards and three touchdowns across seven games.
"I've worked extremely hard to not only get back but improve and try to be better than I ever have been," Beckham said. "So I'm definitely looking forward to it. It's been a long time. It's been a long time in that cave, putting yourself back together. I had a great team around me for the entire process, great support system. And it's going to be special. Like I said, it's been a long time."
A career plagued by Injury
Injuries have unfortunately been synonymous with the career of the the three-time Pro Bowler. In 2017 he missed 12 games due to a fractured ankle and again four games in 2018 with a quad injury. To say he is injury prone could be a stretch, however, to acknowledge that his obvious and immense ability is muted by his frequent absences would be fair. When healthy Odell Beckham Jr. is without a doubt a star.
For more from around the NFL
Beckham in, Landry out and the Browns dig in
Beckham's return - if it happens - would be a welcome treat as the Browns are set to do without the services of Jarvis Landry. Landry is has been place on the injured reserve list due to a sprained MCL and unfortunately for Cleveland will miss a minimum of a minimum of three games. Beckham's addition would undoubtedly plug the whole left by Landry's absence or perhaps more.
The Browns do of course have varying options when it comes to their passing game such as Rashard Higgins, Donovan Peoples-Jones and Anthony Schwartz at wideout. Then there are tight ends David Njoku, Austin Hooper, Harrison Bryant—and running back Kareem Hunt, all of whom are more than capable of putting numbers on the board. With QB Baker Mayfield they will have to feel that they can weather the storm.
As the Browns weigh their options one thing is clear, when Odell Beckham Jr. returns it will be something to see.