CHAMPIONS LEAGUE
Guardiola: Nobody could imagine Messi leaving Barcelona
Pep Guardiola discussed Lionel Messi and hailed PSG's "exceptional" players ahead of Manchester City's Champions League meeting with the Parisian club on Tuesday.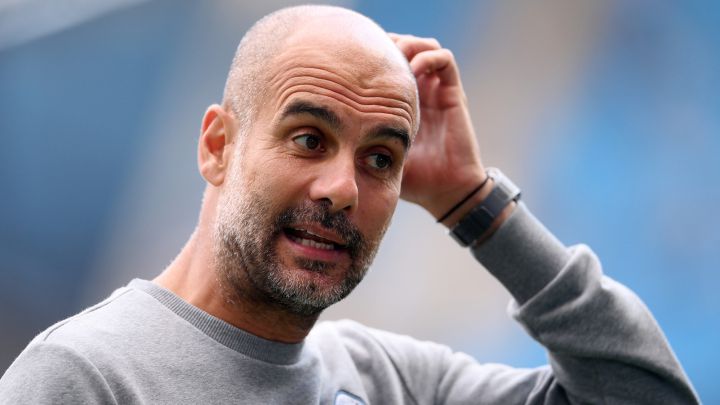 Pep Guardiola will face Lionel Messi when Manchester City meet PSG in Paris on Tuesday in the highlight game of this week's round of Champions League fixtures.
Having coached Messi for four years from 2008 to 2012 while both were at Barcelona, the Argentine star was a natural focus point for discussion in Guardiola's pre-match press conference, with the Spaniard admitting that he was surprised by Messi's Camp Nou departure.
"It was a surprise for everyone, what happened, happened. Everyone now accepts it. Long time ago you couldn't imagine, but it happened. Life itself you never know what happens. The important thing is that he'll be happy there in Paris," said the City boss before going on to hail Messi's "exceptional talent".
"This type of player speaks for himself on the pitch," he continued. "I don't have to add anything else. We were fortunate to see him during his 15, 16 years that he's been a professional. Messi speaks for himself. What he has done in his career is more than exceptional and hopefully, tomorrow he can play for the benefit of the game."
Champions League News:
Guardiola on "exceptional" PSG
With all three players fit, Guardiola faces the daunting prospect of facing Messi, Neymar and Mbappé together, and the City coach is expecting a difficult challenge against a team made up of "exceptional" players.
"What happened last season was last season. They were a fantastic team and it was a tight game and now they have Messi," said Guardiola, whose side defeated PSG in the Champions League semi-final last season.
"With this quality I don't know what we can do, honestly! They are a fantastic team. What could I say with the players they have: Marquinhos, I'm a big fan of him. Hakimi, Paredes, Verratti, especially, and the players upfront - they can play wide, narrow, middle. They combine really well and have quality.
"Talent cannot be stopped. We don't put pressure on one player to stop the talent they have - we do it as a team. We know we will suffer - this level demands this. They are so good and you have to be able to suffer for 90 minutes.
"To control is so difficult. We will try to defend well when we don't have the ball and let them run when we have it. They are exceptional players - everyone knows it. All of them are so good. They can combine and connect. We are looking forward to the game and we will play."
PSG-City live on AS English
The City-PSG game kicks off on Tuesday at 9 p.m. local time (3 p.m. E.T.) and you can follow the action from Parc des Princes right here on AS English, with our live coverage starting about an hour before kick-off.