NFL
Should Justin Fields be starting this early in his rookie season or is his career being put at risk?
Rookie Justin Fields started at quarterback on Sunday for the Chicago Bears against the Cleveland Browns (6-26), and the results were not pretty.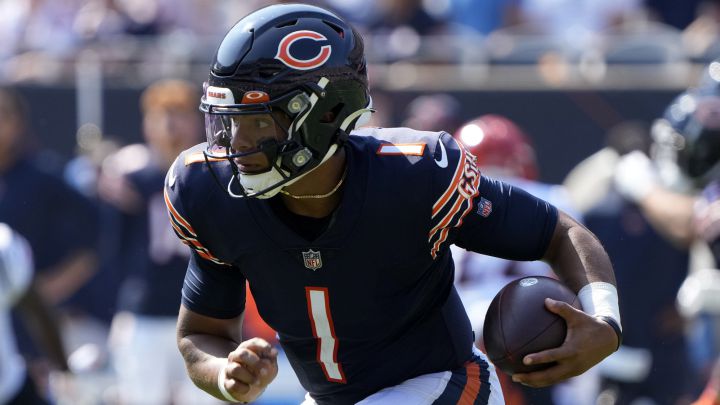 In the world of sports, there always comes a time when coaches make decisions that don't seem rational to everyone else - sometimes referred to as: 'gut moments'.
In American football, throwing a 22-year-old rookie, who hasn't even played a full NFL game, into a Week 3 game might also be referred to by some as one of those 'poor coaching judgment' moments.
Justin Fields' era with the Bears has begun
Chicago Bears' coach Matt Nagy had made it quite clear during the preseason that quarterback Andy Dalton would remain the starter at the beginning of the NFL season. However, Dalton's knee injury left Nagy no choice but to substitute him for QB Justin Fields in the second half of the second week game against the Cincinnati Bengals. The result was mixed to say the least, with moments of brilliance, others of woeful mistakes.

Nagy then went for a 'gut moment' when he announced Wednesday that the rookie Fields would start at quarterback Sunday against the Cleveland Browns. Fields, remember, was picked (at number 11) in the first round of the 2021 draft.

And despite what may have seemed like a rushed move, given Fields' inexperience, many around the NFL believed that turning to him was a long overdue move, until last Sunday. The brutal 26-6 loss to the Browns, with the novice quarterback getting sacked nine times, was certainly a wake up call.

Fields should benefit from the experience
You can't really predict how a rookie, especially a quarterback, will handle his first big NFL game. The anticipation of what Fields would do in his first start was just some of the pressure the rookie was under. But it was a surprise just how anemic the offense was, though much of the blame can be placed on Nagy's play calling and especially with how unprepared the Bears were.
Despite the defeat, and the paltry six points recorded, Fields did do a fairly good job of protecting the football, despite constant heavy pressure. (Myles Garrett was on fire for the Browns defense with 4.5 sacks). So, while Fields definitely did not have the greatest first NFL game experience, at least at some level he still handled the pressure. And what may be most important as the Bears and Fields himself recover from this experience is what Nagy has not been hesitant to publicly praise him for: being a player with "that mentality to rip your heart out."
Nagy also said he felt Fields had prepared well for the game: "I loved his preparation... I think he learned a lot through the week of practice that we had. I think he got better every day. And again, one of the things that we talked about for him moving through this process that he's going to go through is that there are going to be highs and lows.
"Now that was a low, a really low deal there. So we want to make sure that we're doing everything we can to put him in situations to where he's having success. And I think that Justin's positivity, Justin's determination to be great, he'll be able to bounce back from something like this because of all the things that I've already said.
The Pros and cons for Fields of actually being out on the turf
Sure, Fields could have benefited from witnessing a lot more of Dalton's routines through the regular season from the sidelines, where he might also have picked up some ideas that could've potentially avoided him getting sacked nine times by that aggressive Browns defense. But on the other hand, he's now out on the field getting the real experience. As former Steelers coach Bill Cowher said about the situation, "Experience is the greatest thing you can have. The more they can continue to give him, the more comfortable he'll be."
It's safe to say that Fields is the most explosive offensive player with that elusive athleticism giving him an edge over any other player on the roster, including Dalton. However, he is going to have to really step up his game to ensure he doesn't put together a string of performances that threaten to put his career at risk.
Lions up next for Bears

It's not certain Fields will start in the Bears next game, against the Lions on Sunday in Week 4 (1 p.m. ET), but given the Lions' 0-3 start he must be hoping he will, in a game where he could bounce right back from his debut.
Coach Nagy said at the start of the week that all three quarterbacks - Fields, Dalton and Nick Foles, are under consideration to start. Fields will be hoping he gets over the slight injury to his throwing hand he picked up against the Browns (he had x-rays but "felt fine") in order to show exactly what he can do and prove that this really is his time.