US NEWS
Why do Republicans object to increasing the debt ceiling? Will it lead to a government shutdown?
Republicans blocked another unanimous consent vote to suspend the debt ceiling Tuesday, pushing the government closer to a partial shutdown.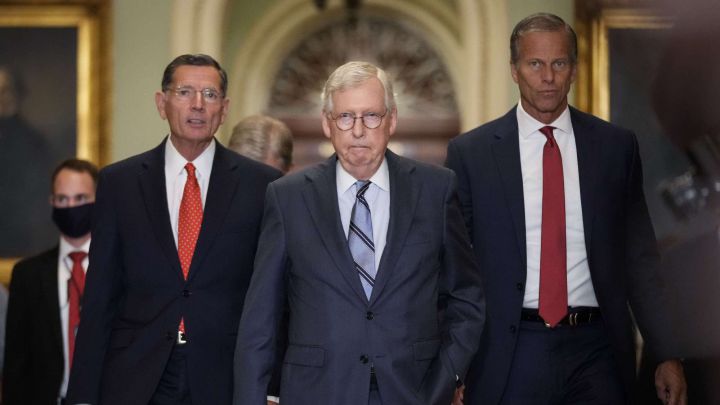 A busy afternoon on Capitol Hill has only pushed the United States federal government closer to a shutdown.
Senate Majority Leader Chuck Schumer asked for unanimous consent from the chamber to vote on a bill that would suspend the debt ceiling beyond November 2022 -- meaning after the Mid-Term elections -- which was swiftly blocked by Senator Mitch Mcconnell.
Currently, the Senate would need sixty votes to increase or suspend the debt ceiling, and Republicans are not willing to give a single one.
What will happen if the debt ceiling is not increased?
Without a vote to increase the debt ceiling, the US risks defaulting and the treasury running out of money.
In her testimony on Tuesday, 28 September, Treasury Secretary Janet Yellen warned Congress that it is "likely" the Treasury will "exhaust its extraordinary measures if Congress has not acted to raise or suspend the debt limit by Oct. 18." She continued by saying that "at that point, we expect Treasury would be left with very limited resources that would be depleted quickly." Limited resources could mean delays in critical welfare payments, paychecks for federal employees, and much more.
Today's market update
∙ The S&P 500 fell 2.04%—its largest single-day pullback since May
∙ Yellen and Powell testified before Congress warning that not raising the debt ceiling could have broad consequences
∙ ICE BofA Move Index, which measures bond volatility, rose to 60.50

— ICE (@ICE_Markets) September 28, 2021
Debate Continues
Republicans are interested in the Democrats using a process known as budget reconciliation, which only requires a simple majority to pass the suspension. There are a limited number of times the parliamentary tool can be used, and Democrats are in the process of drafting a $3.5 trillion reconciliation package.
Senate Majority Whip Dick Durbin also spoke about the temporal limitations of using the budget reconciliation process to increase the debt ceiling, saying that it could take weeks to prepare a new bill that included the measure given the procedural steps that would need to be taken.
Democrats opted to use budget reconciliation after Republicans showed no interest in many popular items to support families in the US included in the legislation, like the extension of the Child Tax Credit's current structure through 2025 and a paid family leave program.
Why are Republicans opposed?
Republicans have accused Democrats of trying to in-debt future generations by enacting a "far-left" agenda. To make their opposition clear, they are threatening the health of global financial markets. Sec. Yellen spoke to this danger during her time before Congress saying: "Failure to act promptly could also result in substantial disruptions to financial markets, as heightened uncertainty can exacerbate volatility and erode investor confidence."
Democrats' reckless taxing and spending spree is a far-left wish list that will hurt families and help China.
⁰Higher heating bills, electric bills, and gas prices. Democrats want to tear a big hole in Americans' wallets right where they can least afford it.

— Leader McConnell (@LeaderMcConnell) September 28, 2021
Raising the debt ceiling does not allow for more debt to be taken on. It simply allows the Treasury to pay the bills they already have without defaulting. Under President Trump, the United States racked up more than $8 trillion in debt, and those debts are not currently accounted for because, in 2019, Congress suspended the debt ceiling until August 2021.
In comments made by Sen. McConnell on the floor, he reminded his Democratic colleagues that yesterday he and "Senator Shelby had put forward legislation that could pass the Senate easily and keep the government open."
However, Democratic leadership had labeled the bill a non-starter because it did not include a suspension of the debt ceiling and would only fund the government through December. Democrats who had proposed a suspension passed the November 2022 Mid-Term Elections are not interested in extending the fight over the debt ceiling for the rest of the year.
Democrats also cited the 2019 bipartisan vote to suspend the debt ceiling, which took place under President Trump. Regardless, Sen. McConnell has said that his party will not support any sort of suspension. The standoff intensified and extended the political game of chicken another day, leaving a little over forty-eight hours before a partial government shutdown.