NFL
Cowboys' OL La'el Collins has appeal denied by federal judge
Collins had hope to have his five game suspension ended but it seems he will be forced to serve it out.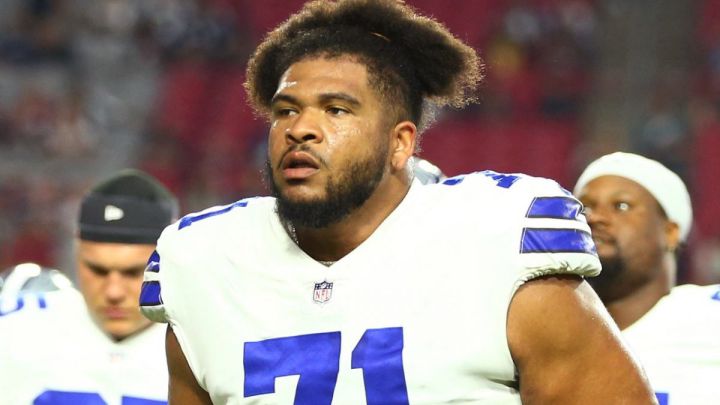 The 7 year veteran has seen his appeal denied and will have to serve out the rest of his 5 game ban.
La'el Collins sees his request denied by Federal Judge
The case of Dallas Cowboys' offensive lineman La'el Collins has had final point of punctuation put to it, after A federal judge denied his request for an injunction that would have brought an end to his five-game suspension with one game still to be served. U.S. District Judge Amos Mazzant implied that his ruling - issued on Tuesday - was based on "reasonable construction of the parties' agreements." The NFL had suspended Collins in violation of the league's collective bargaining agreement with the players' union.
While a Texas federal judge effectively upheld his suspension today, Cowboys RT La'el Collins found "vindication" in a ruling that suggests he should have been fined, not suspended, last month. https://t.co/iRDzEC6NB8

— Michael Gehlken (@GehlkenNFL) October 13, 2021
The latest ruling means Collins will be unable to play Sunday when the Cowboys face the Patriots in New England. Collins will be allowed to return to the team next week and will in turn be available for the roster in week 8 when the team travels to Minnesota.
What happened between Collins & the NFL?
Collins was accused of bribery by the NFL in a court filing that opposed the request for a preliminary injunction. Representatives of the player have vehemently denied that and gone further saying that the arbitrator had been misled by the NFL when the league stated that Collins had been suspended for four games when in fact he hadn't. In response last week, Collins then sued the NFL, its management council and commissioner Roger Goodell.
The lawsuit stated that Collins was had been suspended when the new labor agreement - signed in 2020 - no longer authorized suspensions for missed tests or positive marijuana tests. The league in it's response pointed out a history of infractions by Collins saying he had a "long history of discipline for repeated violations."
For more from around the NFL
The feeling in Collins' camp
Questioned on his feelings about the ruling, agent and representative Peter Schaffer was clear and direct. "Clearly in a fair hearing, a fair court, with a judge like we had here, we'd win hands down, Collins stood up against the league knowing he was right. The only reason he was suspended is this is how the league treats its players."
Collins, who interestingly played only his first game since 2019 - a 31-29 loss to the Bucs - having missed the entire previous season due to hip surgery, is not the first player to have been in Mazzant's sights. Four years ago, Mazzant actually did the opposite when granted star running back Ezekiel Elliott's request for an injunction to bring an end to a six-game suspension over domestic violence allegations. In the end the ruling resulted in a highly publicized legal battle which finally concluded with Elliott being forced to serve his suspension.