NFL
Who plays Thursday Night Football tonight week 6?
There is more on the line than meets the eye in the sixth Thursday game of the season, with both teams standing to win as much as they have to lose.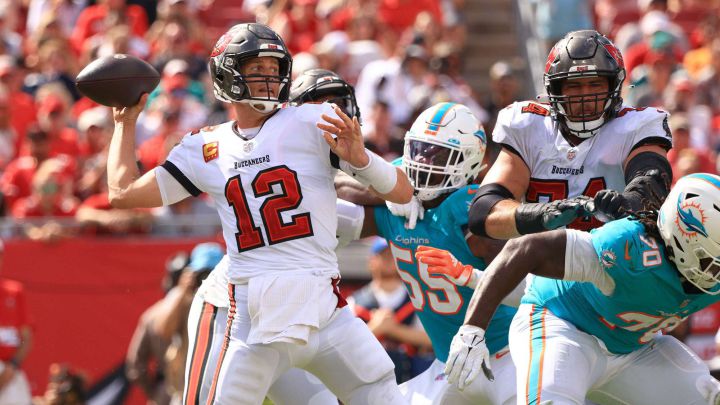 Still riding high off their four-touchdown drumming of Miami on Sunday, the 4-1 Tampa Bay Buccaneers are visiting the 2-3 Philadelphia Eagles for this mid-week matchup. For Brady and company, this represents the opportunity to extend the gap over their trailing NFC South rivals while maintaining pace with the rest of the NFC's conference leaders.
Follow the Tampa Bay Buccaneers vs Philadelphia Eagles live online
A loss now would see them back into the chasing pack with the Bears, Panthers and Saints. Not that they haven't been there before, and we shouldn't forget that they came from a long way down the pecking order on the road to last year's Super Bowl win. They took the hard road then and they would certainly prefer to stay on the well-paved path that they are currently on, a path that leads to first-round byes and all home games.
The Brady Bunch
Things are all looking rosy down in the Tampa area, and that might be cause for celebration. They pinned their hopes on an ageing legend eighteen months ago, and after a wobbly start in the 2020 season, he paid dividends for them. Not that Tom Brady did it alone, that is not his style. Football has always been a team sport and any quarterback, even a truly great one, can only do so much. He needs an offensive line to protect him and he needs to have dependable hands to put those inch-perfect passes into.
Tom Brady may be lacking his steadiest pair of hands in Rob Gronkowski, who will miss this game with a rib injury, but his biggest injury worry may be on the other side of the ball. The Tampa Bay defense lists standout linebacker Jason Pierre-Paul and defensive end Patrick O'Connor as questionable and linebacker Lavonte David and Antoine Winfield ruled out. When these are added together with a nagging thumb injury that Tom Brady reportedly suffered in Sunday's win over Miami and there is a small glimmer of hope for Philadelphia to make some headway.
The Good The Bad and The Eagles
The City of Brotherly Love will plan to extend a very cold hand to the visitors. Philadelphia are facing their own injury depletions, particularly on their offensive line still missing Lane Johnson and tight end Dallas Goedert. One glimmer of hope on this beleaguered offense is that it is anchored by future hall of famer Jason Kelce at center.
Perhaps this has been a factor in the downright pedestrian play calling of young first-year head coach Nick Sirianni. The Eagles have not presented a run game to speak of in the first five weeks and the backfield offers very little motion to disrupt the keying of the defense, allowing opponents to blitz at will. Into this mix, you have the confusing play of Jalen Hurts. At times dazzling, at times dismal, and most usually everything in between, it is impossible to know what to make of the second year quarterback out of Oklahoma.
It is not all doom and gloom in Philly, though, there are a few areas where they have been positively effervescent. Their defensive line is as good as any in the league, consistently managing to put pressure on opposition quarterbacks with a four man rush. Defensive tackle Javon Hargrave has 27 tackles, 14 assists and 6 sacks through the first five weeks and will certainly make the Bucs worry.
The defensive secondary is very solid and have a way of coming up with big plays at big moments, but they suffer from a weakness in the linebacker category. Nobody can exploit a weakness like Tom Brady so the Eagles will have to come up with something unusual in anticipation.
The Philadelphia Eagles vs Tampa Bay Buccaneers kicks off at 8:20 p.m. ET and can be seen on FOX, NFL Network or Amazon Prime Video.