PREMIER LEAGUE
How Mourinho motivated Chelsea to dent Liverpool's title hopes in 2014
Jose Mourinho deliberately wound up his Chelsea team for their famous Anfield win seven years ago by claiming Liverpool thought little of them.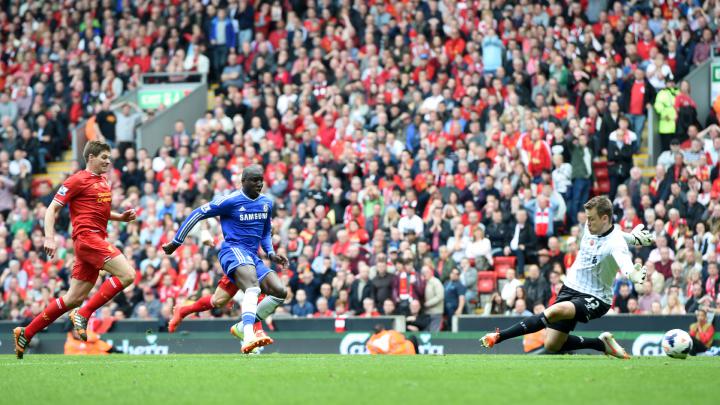 Demba Ba sprinting clear of Steven Gerrard to score in front of the Kop remains one of the Premier League's defining images – and now Jose Mourinho's pre-match rallying message has been revealed.
Liverpool were on course to win the title
The 2013-14 season looked set to give Gerrard the crowning moment of his Liverpool career, but his slip in the 36th game of the Reds' campaign allowed Demba Ba in to score and put Chelsea on the way to an infamous 0-2 win at Anfield.
Liverpool had 73% possession that day and led the shot count 26 to 11, but two errors leading to goals were immensely costly and proved a huge turning point in the title race. Willian scored the second late on. The result blew open the title race, ending Liverpool's 11-game winning run in the league, and when Brendan Rodgers' side squandered a 3-0 lead at Crystal Palace to draw their penultimate game, it was clear it would be Manchester City lifting the title and not them.
Mourinho's mastery in the dark arts
Mourinho's Chelsea, who had nothing to play for going into the game at Anfield, finished third, but the Portuguese's cheeky message to his players before the Liverpool game will go down as one of his most memorable mind-games.
"I remember Jose saying: 'They think we're a Mickey Mouse team! But we will show them!' And we went out fighting," Ba told The Athletic. "I was up against Martin Skrtel and Mama [Mamadou Sakho] and I played an unbelievable game."
Ba also played for West Ham and Newcastle United in the Premier League, but the game that will last longest in the memory is that outing for Chelsea on Merseyside. "I only realised how big a deal that was a couple of years later, when people still talked about it," he said. "They still talk about it! It was traumatic for them. But we didn't enjoy the fact that we killed their dream, we simply enjoyed winning."
Gerrard left Liverpool a year later, the club's captain finishing without a Premier League title. From 2007-08 until the end of his Reds career, Gerrard only made three errors leading to goals in the Premier League, according to Opta. The one that gifted Ba his goal was the midfielder's first such mistake in four years.
He is now manager of Rangers, while Mourinho is head coach of Roma. Ba, as much as he appreciated Gerrard as a footballer, sees no reason to be sorry about his influence on the former England skipper having the trophy gap on his career record.
"No, not really. Because that's the game," Ba said. "You make errors and others take advantage. What Steven Gerrard has done for the world of football is tremendous. But this is life, unfortunately. Not all stories can end in fairytales."