FIFA 22
FIFA 22 Road to the Knockouts: player cards and how to upgrade them
EA Sports has introduced a new promo for FIFA 22, where users can obtain upgraded players' cards whose stats can keep rising, reflecting their team's performance in international competitions.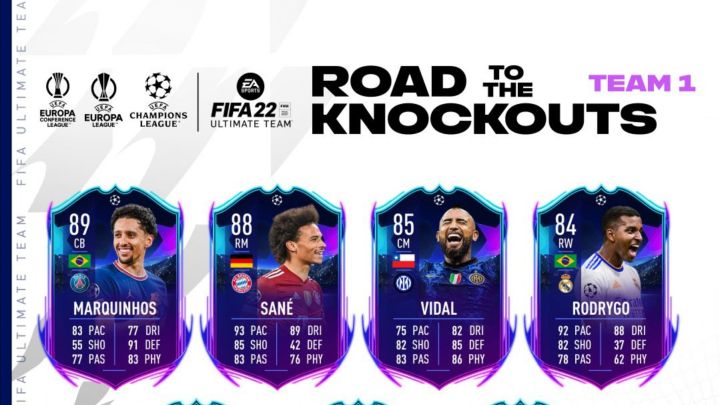 A fresh start for the international European soccer competitions means new content for FIFA 22 Ultimate Team. The previous modality for FIFA Ultimate Team called Road to the Finals is being substituted by Road to the Knockouts. This new promo introduces special Live Items in the form of players' cards, whose stats can be upgraded depending on how their teams perform during the Group Stages of the UEFA Champions League, UEFA Europa League, and UEFA Europa Conference League.
EA Sports has revealed the Items (Player Cards) that will be part of the first team in this promo. There are several hot and quite interesting names out there that can be the perfect addition to your Ultimate Team squad, since these are already upgraded versions compared to the normal cards. (Take a look into that Heung-Min Son with 90 Pace and 88 Shooting whose numbers are highly likely to keep going up since Tottenham is one of the favorites in the Conference League.)
Champions League
Marquinhos - 89
Leroy Sané - 88
Matthijs de Ligt – 87 (SBC)
Arturo Vidal - 85
Rodrygo - 84
Nordi Mukiele - 84
Sandro Tonali - 84
Benjamin Andre – 83 (via objectives)
Ryan Gravenberch - 82
Europa League
Alexander Isak - 86
Issa Diop - 83
Conference League
Hamari Traore - 84
Son Heung-Min - 90
How to get FIFA 22 Road to the Knockouts players' cards
Road to the Knockouts players' cards are available in packs so players have the chance of getting them by opening packs as usual.
Additionally, there are two Round to the Knockout players' cards that can be obtained by playing SBC and weekly objectives as part of this promo.
Matthijs de Ligt, the Dutch centerback via the Squad Building Challenges (SBC).
Benjamin Andre, through completing four weekly objectives: Lille Link-up, Fine Form, Attacking Anchor and Way to Win.
The card in question can be redeemed by completing these four weekly Objectives.
How to upgrade RTTK players?
Besides the initial upgrade that these special cards already present, there are two possible ways for two additional (and stackable) upgrades based on their team performances during the Group Stages. These are:
If their team qualifies for the knockout stages of their current competition (Champions League*, Europa League and Conference League), and
If their club wins three out of their four remaining group stage matches in any of the three tournaments.
It is important to highlight that it isn't necessary for Road to the Knockouts players to have played for their team to receive any upgrade that they are eligible for.
What happens after the Group Stage?
On their official site, EA Sports states that "Road to the Knockouts players are only eligible for upgrades during the Group Stages" but this is just the "start of their celebrations of the UEFA Competitions". So, as it happened in FIFA 21, there can be new promos in the future for the Knockout Stages and the Finals.
*Additional note: Teams who qualify for the UEFA Europa League from the UEFA Champions League (after finishing in the third position of their respective groups) are not eligible for this upgrade.