US NEWS
Why are there food shortages and a global supply chain crisis?
The covid-19 pandemic has caused chaos in the global trading networks and truck driver shortages have led to delays at ports across the world.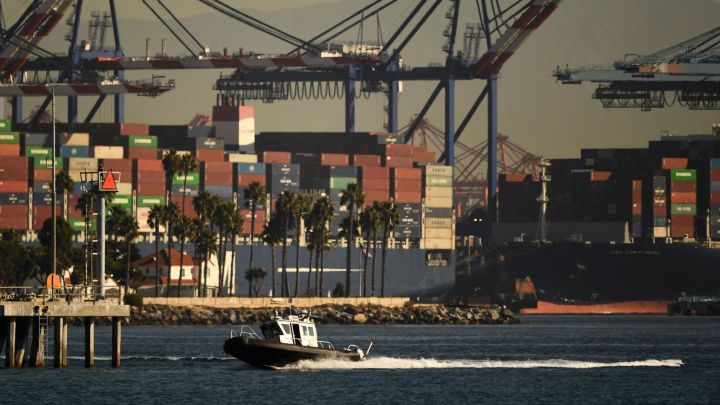 On Tuesday the International Monetary Fund downgraded its 2021 US growth forecast by one percentage point, citing the global supply chain disruptions which have hampered the economic recovery in recent months.
The supply chain issues have, in turn, prompted other serious questions of the global trading system with some supermarkets and hospitality businesses struggling to restock when needed. Xavier Naville, author and founder of a food processing company, told Parade: "In most cases, you're not dealing with actual food shortages but with disruptions in the supply chain."
The supply chain crisis is inflating the prices for customers and reducing both buying power and consumer confidence. In a report released on Monday, Moody's Analytics warned that a variety of factors have created conditions where food and other essential goods could soon be in short supply.
The bottlenecks we're seeing at our nation's ports are exactly why we've been calling for a generational investment in our infrastructure. As our economy continues to grow, we must build port and freight infrastructure that can handle increased demand.https://t.co/uCH5PfXDGf

— Secretary Pete Buttigieg (@SecretaryPete) October 14, 2021
The report reads: "Border controls and mobility restrictions, unavailability of a global vaccine pass, and pent-up demand from being stuck at home have combined for a perfect storm where global production will be hampered because deliveries are not made in time, costs and prices will rise and GDP growth worldwide will not be as robust as a result."
Truck driver shortage leaves cargo stranded
Moody's report cited a shortage of truck drivers in several key transit points as the "weakest link" in the current global supply chain. In the United Kingdom the lack of drivers has caused petrol and diesel shortages at gas stations, leaving motorists unable to travel for days.
The shortage of drivers has been linked covid-19, and the lack of universality in the current response to covid-19 across the world. Some nations, like China, are still aiming to prevent all covid-19 cases, while the US and UK have loosened the restrictions this year in an attempt to allow a return to normality.
This imbalance means that drivers and their vehicles are not able to travel as freely as they once were. Moody's analysts wrote: "This presents a serious challenge to harmonizing the rules and regulations by which transport workers move in and out of ports and hubs around the world."
Waiting time at ports has doubled
Truckloads of goods are waiting in distribution centres for drivers, and some of the world's biggest ports are experiencing a backlog of cargo as the vast global supply chain struggles to adapt to changing conditions.
RBC Capital Markets has published a report analysing the 22 most influential ports in the world and found that 77% of them are experiencing above-average wait times this year. Of those ports, the ones in Los Angeles and Long Beach were found to be the most inefficient of them all.
Globally, the turnaround time for containers has doubled in 2021 in comparison to the figures recorded between 2017 and 2019. Mike Tran, RBC's managing director for digital intelligence strategy, told Insider that there is no easy fix to the problem.
"The issue is non-linear," he said. "It's not just about getting people to work or extending hours. The issue has spread throughout the entire supply chain, each leg of the journey is delayed."