US NEWS
Why are John Deere workers striking?
Dubbed 'striketober', the US is experiencing an unprecedented amount of labor action this month as workers fight back against poor conditions.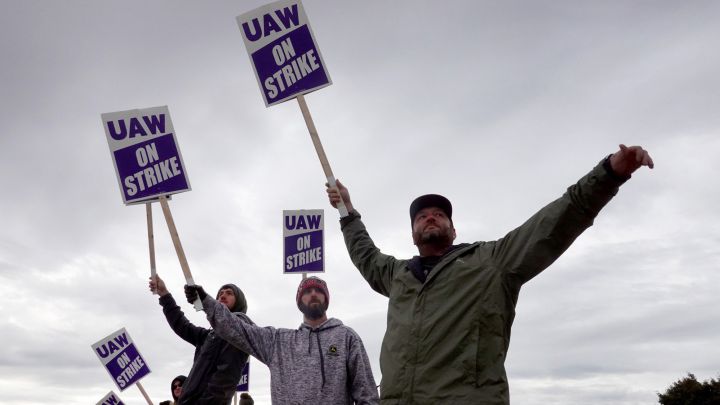 In the largest private-sector strike in two years, John Deere is in the midst of a huge workers strike against worker treatment at the farm machinery giant, as 10,000 workers have joined the picket lines to protest against the companies handling of its workers during the last two years.
These strikes could point towards more fundamental problems affecting the US workforce, especially in the context of emerging from the covid-19 pandemic.
Why are John Deere workers striking?
During the pandemic workers have been subjected to grueling 10 to 12-hour working days for as much as 6 days a week. While workers have seen wages stagnate and conditions worsen, bosses have seen record profits, with $4.7 billion of profit from the first three quarters of this year alone. Nearly $2.5 billion has been paid out to stockholders and dividends while the owner has seen his personal wealth increase by 160% since February 2020.
Profits at John Deere have skyrocketed by some 61% in recent years, while its CEO's salary has exploded by 160% since the start of the pandemic. Please do not tell me they cannot afford to pay their workers fairly. I am proud to stand in solidarity with @UAW members on strike.

— Bernie Sanders (@BernieSanders) October 14, 2021
Represented by the United Auto Workers (UAW), the staff voted 99 percent in favor of a strike. This was after 90 percent of staff voted against an improved contract of a 4 percent wage raise, along with other concessions.
"We sacrificed, and we want that back now," said David Schmelzer, a quality control inspector at John Deere in Milan, Illinois for 24 years and former chairman of UAW Local 79.
"Workers in this country need to understand that we have a considerable amount of power in this country, if we choose to utilize it, and there's no reason why we should stand back and let these companies just completely exploit our labor for billions of dollars and fight tooth and nail not to give us anything."
To fill the labor shortage John Deere has been drafting in temporary workers and repurposing other staff. This has led to workplace injuries with untrained and inexperienced staff working complex machinery.
Where else are strikes happening?
While John Deere's workers are claiming the headlines, October is seeing a wide range of workplace strikes in dozens of industries.
These include:
International Alliance of Theatrical Stage Employees (IATSE) announced a strike authorization vote for 60,000 workers in Hollywood, but it could be averted,
1,100 coal miners in Alabama have been on strike for the past six months,
2,000 carpenters in Washington have been on strike since 16 September,
2,500 nurses and other hospital staff represented by the Communications Workers of America (CWA) are fighting for a new union in Buffalo, New York,
1,400 Kellogg factory workers in Michigan, Nebraska, Pennsylvania and Tennessee,
24,000 nurses could also protest after negotiations with Kaiser Permanente failed,
Some 6,500 lecturers in California are also on the brink of a walkout.
Millions of jobs remain unfilled, with many arguments being banded about as to why this may be. One of the largest factors is the working conditions people have been experiencing over the pandemic, with millions of layoffs leading to more hours of work for the staff left behind.August also saw 2 million active workers leave the workforce.
After a perfect representation of how important the individual worker is during the pandemic, especially so-called 'unskilled' workers, this fall is providing the opportunity for workers to get their voices heard and make their workplaces a more positive area.