OTHER SPORTS
Canelo vs Plant fight: odds, prediction, dates, times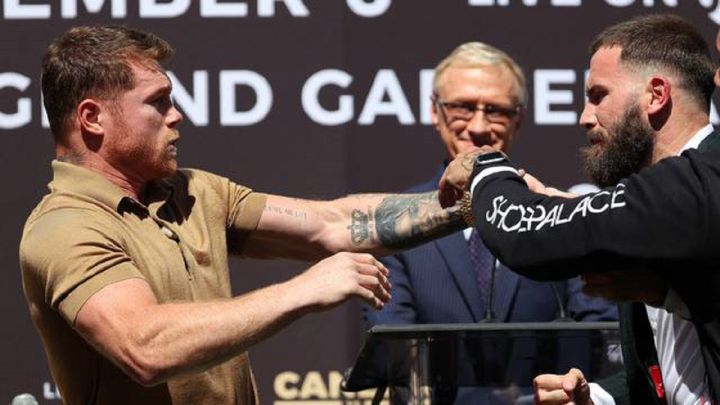 Ahead of his fight with Caleb Plant, the Mexican is as good as it gets
Canelo on the verge
Pound for pound, Saul "Canelo" Alvarez is currently the best fighter in the world and by all accounts it seems he's on the road to becoming one of the greatest to ever enter a ring. On November 6th, Canelo will have the opportunity to add another name to an already long and impressive list of opponents who couldn't cope with the Mexican. Caleb Plant stands in the way. In an undisputed bout, The winner will clinch the super middleweight titles for the WBA, WBC, WBO and IBF.
The MGM Grand in Las Vegas will play host to the event with DAZN and Showtime televising it on PPV. The bell rings at 6am ET. Canelo, who currently holds three of the four belts is ahead in the odds. Plant, who holds the remaining one of the four will be looking for an upset. Incidentally, the two fighters recently traded blows at a promotional press conference.
Canelo vs Plant Odds
Online sportsbook Bovada has listed the Canelo vs Plant betting odds with Canelo Alvarez set as the favourite at -1100 and Caleb Plant as the clear underdog at +600. What that means is that to make $100 on a Canelo win, you would have to bet $1,100. By contrast, betting $100 on Plant to win would get you $600.
Fighter Odds
Canelo Alvarez -1100
Caleb Plant +600
Predictions for the Canelo vs Plant fight
According to Oddsshark Canelo's has a 91.67 percent win probability compared to Plant who has a win probability 14.29 percent. Barring a massive upset, expect Canelo to win.
Alvarez vs Plant: How do they match up?
Plant is an experienced fighter and has over time developed varying aspects of his trade such as his noteworthy jab. The American has often baited attacks from opponents with that said same jab only to respond with deft counters and combinations on his way to victory. 'Sweethands' as he is known has a Floyd Mayweather element to him in that his lead hand is often low which again disguises his jab. Plant's defensive skills are also exceptional.
For more from the world of Boxing
Canelo on the other hand needs no introduction. With a 'fight IQ' that is exceptionally high, he will more than likely be immune to the baiting tactics of Plant. Canelo's footwork and and head movement will undoubtedly lead to him to close distance where he will then have an advantage. Few fighters in history possess the ability that the Mexican has when it comes to operating in the pocket, while evading the entire range of punches from an opponent and punishing them at the same time.
Though Plant is a class act, expect Canelo Alvarez (-1100) to win via knockout.